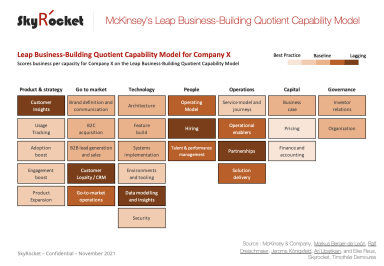 McKinsey's Scale-Up Leap Business-Building Quotient capability Model Template
A simple version of McKinsey's Leap Model Framework to depict the ability for a new venture to enter the "scale-up" phase successfully, in Microsoft PowerPoint.

by Tim Demoures
Managing Director @ Eloquens.com & Chief of Staff to the CEO @ Wimi
Follow 173

by SkyRocket
Master Strategy Consulting Frameworks
Follow 25

with McKinsey & Company
Global Management Consulting Firm
Follow 13
show more keyboard_arrow_down
Other credits: Markus Berger-de León, Ralf Dreischmeier, Jerome Königsfeld, Ari Libarikian, and Eike Reus from Leap by McKinsey
Description
Markus Berger-de León, Ralf Dreischmeier, Jerome Königsfeld, Ari Libarikian, and Eike Reus from Leap by McKinsey published an article in November 2021 outlining the basic principles for the Leap Business-Building Quotient (or LQ).

Its objective is to place an emphasis on the key abilities necessary for a business to scale new ventures. Their thinking is based on one main observation: 22% of new businesses launched (and who have reached the "built-up" phase) in the past 10 years (2011-2021), have not reached scale, while two-thirds of of value creation is created in the "scale-up" phase. Source: https://www.mckinsey.com/business-functions/mckinsey-digital/our-insights/the-big-boost-how-incumbents-successfully-scale-their-new-businesses

For the background, a "Scale-up" is a phase of a given company's (or startup's) growth. It is a company that has already reached the "built-up" phase, meaning they have solid revenue and value generation proof and are mature enough to reach higher levels. To be "at scale", a company generally has to rely on outside funding to gain market share fast. This "high growth" phase brings the most challenges for the company and the leadership team, thus needing solid preparation to mitigate know risks. The Leap Business-Building Quotient Capability Model Template is one of the advised tools to make an objective scan, before going full-speed into the scale-up phase. More about the definition of a Scale-up on Tech Nation here: https://technation.io/news/what-is-a-scaleup/

Constructed by the Leap by McKinsey team, thanks to a careful analysis of over 200 scaled startups, the Leap Quotient is built upon a self-assessment survey that is handed out to all key stakeholders in the new venture. The survey encompasses 28 themes across the seven dimensions that are necessary to achieve scale:

1️⃣ PRODUCT & STRATEGY: Customer Insights, Usage Tracking, Adoption boost, Engagement boost, Product Expansion
2️⃣ GO TO MARKET: Brand definition and communication, B2C acquisition, B2B lead generation and sales, Customer Loyalty / CRM, Go-to-market operations
3️⃣ TECHNOLOGY: Architecture, Feature build, Systems implementation, Environments and tooling, Data modelling and insights, Security
4️⃣ PEOPLE: Operating Model, Hiring, Talent & performance management
5️⃣ OPERATIONS: Service model and journeys, Operational enablers, Partnerships, Solution delivery
6️⃣ CAPITAL: Business case, Pricing, Finance and accounting
7️⃣ GOVERNANCE: Investor relations, Organization

In the model, each "capability" is scored from 1 to 5:
1 = Best Practice
3 = Baseline
5 = Lagging

The main insights of the Leap Team are:
✅ Most companies have good scores in "PRODUCT & STRATEGY" but are low in "GO-TO-MARKET"
✅ To reach scale, companies have to reach a minimum in all 7 dimensions and practices
✅ The leading scaled companies meet the minimum in all dimensions and are excellent in several (depends on the industry)
✅ Most companies over-estimate their level of competency in each capability (80% say they would pass the bar, while only 20% after the analysis really do)

The Output of scoring your company in the LQ Model is to come up with a list of actionable projects to implement to reach the minimum threshold and level of excellence in your pertinent capabilities, before investing in the "scale-up" phase.

Some examples of projects spotted by the McKinsey team (stemming from the analysis of a leading international manufacturing firm):
- Customer insights: Co-create with customers
- Operating model: Set up a scalable operating model from the start fuelled by entrepreneurial talent
- Feature build: Develop technology that creates a competitive advantage and source the rest

Given the pertinence of this model, and having been in a leadership role at a pre-scale-up company myself in 2021 (Wimi), I created a generic version of the LQ Model enabling any leadership team to:
- intuitively score their organisation (from 1 to 5 on each capability)
- identify main weaknesses, strengths and zones of excellence (existing or necessary to attain)
- and finally take the decision to get outside support, from consulting teams and/ or take the Official McKinsey LQ Test.

The Leap Quotient Test can be taken by contacting the Leap Team at McKinsey via here: https://www.mckinsey.com/business-functions/mckinsey-digital/leap/overview

The Best Practice is:
- an editable Microsoft PowerPoint Template Slide
- 1 Excel Model to plot the Table (with two tabs)
- with an online & offline 10 step-by-step methodology, with pedagogical illustrations for each step.

Should you have any questions on using this top tier Business Scoring Management slide and framework, you're welcome to reach out to me via Private Message.

Good luck!
- Tim

⭐️ Bundle of 12 McKinsey & Company Models & Frameworks (including this one):
https://www.eloquens.com/tool/9GJKSgnL/strategy/mckinsey-frameworks-best-practices/mckinsey-company-models-and-frameworks-bundle

Link to original article by the McKinsey Leap Team: https://www.mckinsey.com/business-functions/mckinsey-digital/our-insights/how-good-are-you-at-business-building-a-new-way-to-score-your-ability-to-scale-new-ventures.
This Best Practice includes
1 PowerPoint Template Model + 1 Excel Model + 1 Online 10 Step-by-Step Methodology
Acquire business license for $9.00
Add to cart
Add to bookmarks