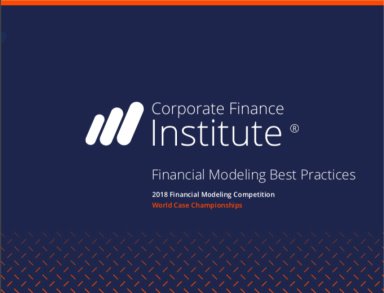 Financial Modeling Best Practices
This is a guide on financial modeling best practices, brought to you by FinancialModeling.org.

by financialmodeling.org
CFI Financial Modeling Competition & World Championships
Follow 44
Description
Financial modeling can be a difficult and complicated task. 'Financial Modeling Best Practices' helps you to not just learn and understand more about financial modeling, but also to build your own financial models.

This extremely detailed guide on best practices covers a wealth of detail. Included are 2 sections, 'Analytics' and 'Presentation'.

Section 1 'Analytics', this section includes:

- Financial Modeling; What is Financial Modeling, Types of Financial Models, Financial Modeling Best Practices, Financial Modeling Skills
- Valuation: Valuation Methods, DCF Analysis, Business Valuations
- Excel: List of Excel shortcuts, Excel Formulas Cheat Sheet, Advances Excel Formulas

Section 2 'Presentation', this section includes:

- Presentation: Investment Banking Pitch book
- Data Visualization: Overview of Dashboards and Data, Visualization Types of Graphs, Football Field Chart, Excel Waterfall Chart.

Due to the potential complexity that one can experience when creating financial models, it is necessary to be structured. An effective financial model contains three principal aspects: inputs, processing, and outputs.

To reduce margin for error when creating financial models, it is important to note the following steps:

Clarification of the business goal at hand - what is the problem to be solved?

Simplify your model - what is the simplest number of inputs and outputs that can be used to create an efficient model?

Plan model structure

Protect integrity of data - this can be achieved by using the 'data validation' and conditional formatting tools found in Excel.

Test Run - use practice data to ensure the model is running well before real use.

This PDF download is also accompanied by a video for better comprehension for the user.

For more tools from CFI please visit out channel page. For any questions do not hesitate to start a discussion below.


This Best Practice includes
1 PDF, 1 YouTube Video
financialmodeling.org offers you this Best Practice for free!
download for free
Add to bookmarks