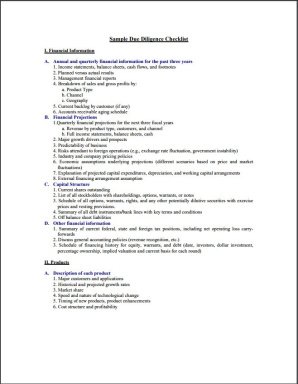 Sample Due Diligence Checklist
Sample checklist for conducting due diligence.

by Meritus Ventures
Investor of exceptional companies in Southern & Central Appalachia.
Follow 12
Description
When buying a business, you don't want to encounter any nasty surprises post-acquisition. Due diligence is evaluating all aspects of the target company before carrying through with the deal.

DD is not seen as a general investigation but more a specific investigation into certain elements which can sometimes change based on the situation. It is intended to protect both parties involved but mainly the purchaser. It helps to identify potential financial and legal risks so that nothing is hidden going into the deal.

What does the due diligence process involve?

The process involves the buyer, an attorney, and an accountant. When purchasing a business, due diligence is usually performed post-signing of 'intent to purchase' documents, and pre-signing of the 'formal purchase agreement.'

During due diligence, you should:

Examine all records and documents, as described below
Spend time at the business location, talking to managers, executives, employees.

During due diligence:

Customer lists should be checked against sales to make sure that the business has the customers that it has stated.

Examine the future plans for expansion, facilities, assets etc to make sure what has been reported is correct.

Examine all documents that could potentially incur liability for the business along with documentation regarding potential lawsuits or litigation.

Note the discrepancies realized between what has been reported and what you have actually seen to be the case. Make sure plenty of questions are asked so that you are not kept in the dark about anything.
This Best Practice includes
1 Downloadable Sample Due Diligence Checklist
Meritus Ventures offers you this Best Practice for free!
download for free
Add to bookmarks