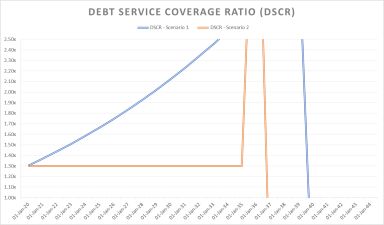 Debt Sculpting Example
Debt Sculpting Example in Microsoft Excel to download.

by Matthew Bernath
CFA® charterholder | Infrastructure Finance | Project Finance | Finanial Modelling Podcast
Follow 14
Description
This short example in Excel shows how to sculpt debt payments from the CFADS line. It shows the comparison between a sculpted loan repayment and mortgage style repayments, and includes DSCR and LLCR calculations on each type of repayment to show the differences.

Traditional debt repayments are the same total amount every time a payment is made, with the principal portion increasing with each instalment and the interest amount decreasing as the debt balance decreases. This annuity (or credit foncier for the fancier amongst us) payment methodology is common with house and car loans where the same amount is deducted from your bank account every month.

Now, let us assume that we can adjust how much principal is paid on an annual basis. We could, therefore, increase the principal payment in line with how our Cashflow Available for Debt Service (or CFADS) is increasing, and not just with decreasing interest. CFADS may be increasing in line with our revenue line, for example at inflation. This is debt sculpting.

Sculpting ranges from easy, but can be complicated depending on your requirements, but in its simplest form one can use an equation to calculate what the principal payments should be.

This example comprises of a PDF download, an Excel download and a video explaining debt sculpting.
This Best Practice includes
1 Excel File, 1 PDF
Acquire nonprofit license for $5.00
Add to cart
Add to bookmarks