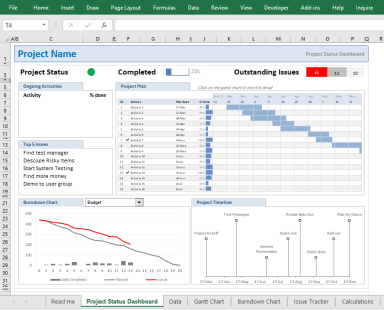 Project Management Dashboard in Microsoft Excel
Project Management Dashboard in Microsoft Excel - Legal Template

by Rahim Zulfiqar Ali
Founder & CTO - XLR8 Tech Solutions, CEO - Excel Basement, Excel & POWER BI Trainer & Consultant, MBA (MIS), MCT, MSOM, Data Analyst, Power Platform
Follow 139
Description
Project Management Dashboard in Microsoft Excel

To make the project management dashboard, you must answer the following questions,
Who is the audience of this dashboard?
Top management or project sponsors or team members or other departments?
What are they interested to know?
Day to day issues or High level stuff or Plans or Budgets?
What is the frequency for updating the dashboard?
Weekly, Bi-weekly or Monthly or Once in a blue moon?
The answers to these questions will determine what goes in to the dashboard and how it should be constructed.

For our example, I have assumed the following scenario, but you can easily change the dashboard constituents based on your situation.

Audience of the report: Project Sponsorship Team
Interested to know: Project Progress wrt Plan, Blocking issues, Overall timeline and Delivery Progress
Frequency: irrelevant (could be weekly or bi-weekly)

Communication is a very important aspect of project management. Communicating with stakeholders, sponsors, team members and other interested parties takes up quite a bit of project manager's time.

In almost all the projects I have been part of, the first and foremost question anyone used to ask us is, "how is the project going?". There is no one line answer to this. A project status dashboard or project status report can help us express the project status in a crisp yet effective manner.
This Best Practice includes
1 Excel File
Acquire business license for $50.00
Add to cart
Add to bookmarks