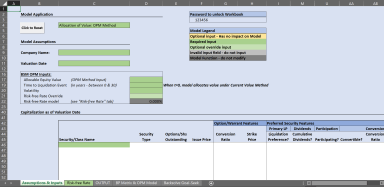 Complex Capital Allocation Model (with Macros)
Complex Capital Allocation / Backsolve Model (with Macros)

by Mark S. Sonner, CFA, CPA
Director of Administration & Finance
Follow
Description
This model is an extremely valuable tool for financial analysts, business valuators, private equity investors, auditors and other financial professionals who are working with a business that has a complex capital structure.

Using only standardized inputs, this model allocates business value across multiple classes of stock with different economic rights / preferences under the Option Pricing (Black-Scholes) and Current Value Methods. This model can also determine the implied value of a business with a complex capital structure given a recent capital raise (i.e., business valuation under the Backsolve Method).

Capabilities include complex capital allocation across a maximum of 40 different classes of stock or derivative instruments. Preferred stock, common stock, options and / or warrants can all be considered within this model.

All of the most common (and some of the less common) economic rights/preferences are included in this model:

1. Preferred stock features include liquidation preferences, cumulative preferred dividends, participation rights, participation caps and conversion rights. For each class of preferred stock, five separate liquidation preferences can be entered, each with its own individual liquidation multiplier (in order to account for senior as well as any additional junior liquidation preferences). Separate conversion ratios can also be entered for preferred stock conversion rights and participation rights.

2. Option / Warrant features including conversion ratio and strike (exercise) price

Manual overrides are also available for many input fields.
This Best Practice includes
1 Excel Workbook (with Macros)
Acquire business license for $250.00
Add to cart
Add to bookmarks