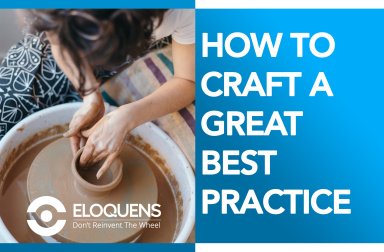 How to craft and write a great Best Practice for your Eloquens Channel
Learn the best methods 🎯 for crafting your Best Practices on Eloquens from Eloquens Academy.
Introduction
Creating and writing your Eloquens Best Practice is a relatively easy process, but maybe you don't know where to start or just need some guidance. To make this process easier, the Eloquens Academy has put together some simple steps for you to follow on your way to creating a great Best Practice for your channel. 🤗
Step n°1 |

Picking a good title 👍

This means picking a title that gives a clear indication of exactly what your best practice consists of and entices users to investigate further. Keep it simple and don't exaggerate as this might leave your audience expecting more than what they got from their download. This also includes having an SEO Friendly Title for your best practice: to choose the right keywords, you can use Google adWords to test different keywords and pick which ones are the most suitable and popular. Notably "Best Practice". 💡

Step n°2 |

Writing a description

To write an effective description, follow the SIMAC approach.
1. Summarize your Situation;
2. State your Idea;
3. Explain the Mechanism of your best practice, how it works;
4. List the Advantages of your best practice, its key benefits;
5. Conclude your description and define clear next steps.


In terms of SEO, use action words like "Find", "Learn", "Download", "Simple", "Ready-to-use", "Free" to maximise the click rate (this is the short phrase prospective users will see both, in Google Search Results + in the Eloquens Catalog). Include SEO friendly keywords: same words as title and similar words in the same semantic fields. Finally, maximise the readability and length of your Long Description + Objectives + Good for + Not Good for: Pages with high-quality keyword rich and user-friendly content will be appreciated. Try to write around 500 words. This will help you achieve greater "On-Page SEO".
add_shopping_cartContinue reading for free (70% left)