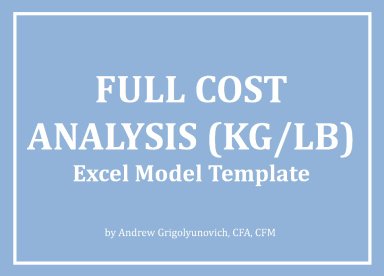 Full Cost Analysis Template (kg/lb) Excel Model Template
Use this cost analysis template to price your products right

by Andrew Grigolyunovich, CFA, CFM, FMVA
Founder & CEO at The Financial Modeling World Cup
Follow 174
Description
The absolute majority of small and medium businesses are not using full cost analysis template of any kind. This is one of the key reasons why they are losing money on some of their orders (and never notice!)

If you are a manufacturer or a wholesaler, you have definitely been in a situation when a large retailer wants to place a large order at a very low price (at least in your opinion). If you are working in an industry where all the orders are being made through tenders, setting the right price should probably be your daily routine, but you do have the right tools? Or maybe you just put the price of your products based on what the market allows without delving how much beneficial each of the products is for you?

It is good when a company has an experienced CFO with a lot of experience in such calculations. However, most SMEs just don't have the person with the right qualification. As a result, these calculations are made by an accountant or the company just doesn't make them at all!

As a consequence companies often make bad pricing decisions. Either they lower the price of their products below the profitable level, or the other way around, companies are not using the possibilities of reducing prices where they could do this and miss potentially profitable deals.

Therefore, we at CFOTemplates.com suggest using the full cost analysis template in order to get the maximum profit from your business!

In case you are interested in exploring the model before the purchase, feel free to navigate through the screenshots on this page.

The Functionality of the Model:
-> Attributing direct manufacturing costs by products (materials, payroll, contractor services, etc.);
-> Splitting indirect costs by product, in accordance with the principles defined by you (eg., based on the volume produced);
-> Possibility to relocate indirect costs between the product groups. Sometimes it is important for certain product groups with strong competition and price pressure. In this case, part of the indirect costs could be split between the other product groups;
-> Minimum price suggestions;
-> Sensitivity analysis (economies of scale). Calculate how the minimum selling price of each product will change when the total manufacturing volume changes;
-> Sensitivity analysis (price inflation). Calculate how shall the minimum price of each product change when raw material prices or wage levels increase;
-> Comparison of the minimum price with actual current prices, identification of problematic products and retailers;
The model uses kilograms/pounds for weight calculations. The pound version of the model is available here.

We also suggest using our customization services to provide automatic data input - you can automatically export data for the model from your accounting system!
This Best Practice includes
2 Full Cost Analysis Excel Templates (kg and lb)
Acquire business license for $29.00
Add to cart
Add to bookmarks
Further information
Manufacturing, wholesale, SME without a specific model for product pricing.
Analysis not connected to cost or pricing