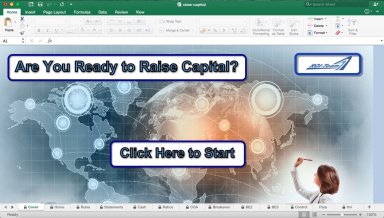 How to Raise Capital
Detailed Excel model for helping to raise capital for your business.

by David Connaughton
Owner, ROI-Team, Inc.
Follow 32
Description
This is an incredibly detailed and extensive excel model to help raise capital for your business. This model allows for in depth financial analysis of your business, allowing you to identify key ways in which to gain capital. The model includes 21 tabs to help in the process of raising capital. These are:

- Home
- Rules
- Statements
- Cash
- Ratios
- COA
- Break even
- BE2
- BE3
- Control
- Parameters
- Volumes
- Corporate Overhead
- Balance Sheet
- Profit and Loss
- Cash Flow
- Print Version
- ROI
- Payback
- Net Present Value
- Business Plan Concept

As such, this model offers space for an in depth financial analysis, allowing you to move forward and raise more capital. Using this model will help you to not only keep a detailed track off your business' financials, but also give you an idea of how to start making capital in order to breakeven and then make profit.

You will be able to inpiut certain parameters regarding the products that you are selling. You will be able to input figures based on item cost, units per product, labour and factory costs. This tab will also allow you to track your investments and bank loans and change different variables such as tax rates to drive the balance sheet.

The model also includes various financial statements to help you to monitor your financial performance and raise capital. You will be able to construct balance sheets, corporate overhead statements, profit and loss statements, cash flow statements and ROI. Thus, you will be able to get a thorough overview of all your business' financials.

The final tab also offers help in creating a business plan based on your financials, helping you to create a thorough plan.

Currently available at Sale Price.
This Best Practice includes
1 excel spreadsheet
Acquire business license for $5.00
Add to cart
Add to bookmarks