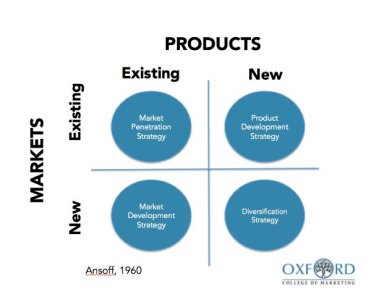 How to Use the Ansoff Matrix to Develop a Marketing Strategy
This 'how-to' methodology explains the 4 main strategies you can use when adopting the Ansoff Matrix for marketing.
Introduction
The Ansoff Matrix was developed by Igor Ansoff and initially published in the Harvard Business Review. It is a core business strategy tool, taught in business schools to MBA students and utilised throughout businesses globally.


Ansoff suggested that there were effectively only two approaches to developing a growth strategy; through varying what is sold (product growth) and who it is sold to (market growth). When combined with the Ansoff Matrix detailed above, it delivers four strategic options, each with a differing level of risk. Let's now look at these in turn.
Step n°1 |

Market Penetration

The lowest risk strategy is for a company to sell its existing products into existing markets as it knows its customers, has established channels and so on. This strategy Ansoff termed 'Market Penetration'. This is only possible where markets are still growing, or where organisations are prepared to use other elements of the marketing mix (such as price discounting and additional promotional activity) to penetrate the market at the expense of competitors.
add_shopping_cartContinue reading for free (70% left)