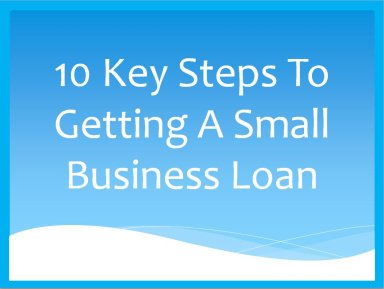 How to Get A Small Business Loan in 10 Key Steps
This guide provides you with 10 key steps to achieving a loan for your small business with useful insights included.
Introduction
Small business loans are available from a large number of traditional and alternative lenders. Small business loans can help your business grow, fund new research and development, help you expand into new territories, enhance sales and marketing efforts, allow you to hire new people, and much more.


This article sets forth 10 key steps to take in getting a small business loan, with some practical advice and insight on the lending process.
Step n°1 |

Understand the Different Types of Small Business Loans Available

There are multiple types of small business loans available. The options vary depending on your business needs, the length of the loan, and the specific terms of the loan. Here are a number of small business loan choices:



Small business line of credit. Under a small business line of credit, your business can access funds from the lender as needed. There will be a cap on the amount of funds accessible (e.g., $100,000) but a line of credit is useful for managing a company's cash flow and unexpected expenses. There will typically be a fee for setting up the line of credit, but you don't get charged interest until you actually draw down the funds. Interest is typically paid monthly and the principal drawn down on the line is often amortized over years. However, most lines of credit require renewal annually, which may require an additional fee. If the line is not renewed, you will be required to pay it in full at that time.


Accounts receivable financing. An accounts receivable line of credit is a credit facility secured by the company's accounts receivable (AR). The AR line allows you to get cash immediately depending on the level of your accounts receivable, and the interest rate is variable. The AR line is paid down as the accounts receivable are paid by your customers.


Working capital loans. A working capital loan is a debt borrowing vehicle used by the company to finance its daily operations. Companies use such loans to manage fluctuations in revenues and expenses due to seasonality or other circumstances in their business. Some working capital loans are unsecured, but companies that have little or no credit history will have to pledge collateral for the loan or provide a personal guarantee. Working capital loans tend to be short-term loans of 30 days to 1 year. Such loans typically vary from $5,000 to $100,000 for small businesses.


Small business term loans. Term loans are typically for a set dollar amount (e.g., $250,000) and are used for business operations, capital expenditures, or expansion. Interest is paid monthly and the principal is usually repayable within 6 months to 3 years (which can be amortized over the term of the loan or have a balloon payment at the end). Term loans can be secured or unsecured, and the interest can be variable or fixed. They are good for small businesses that need capital for growth or for large, onetime expenditures.


SBA small business loans. Some banks offer attractive low-interest-rate loans for small businesses, backed and guaranteed by the U.S. Small Business Administration (SBA). Because of the SBA guarantee, the interest rate and repayment terms are more favorable than most loans. Loan amounts range from $30,000 to as high as $5 million. However, the loan process is time consuming with strict requirements for eligible small businesses. Visit the SBA website to see a list of the 100 most active SBA lenders.


Equipment loans. Small businesses can buy equipment through an equipment loan. This typically requires a down payment of 20% of the purchase price of the equipment, and the loan is secured by the equipment. Interest on the loan is typically paid monthly and the principal is usually amortized over a two- to four-year period. The loans can be used to buy equipment, vehicles, and software. Loan amounts normally range from $5,000 to $500,000, and can accrue interest at either a fixed or variable rate. Equipment loans can also sometimes be structured as equipment leases.


Small business credit cards. While some business owners may be wary of using them, small business credit cards can also act as short-term small business financing. Interest rates will vary depending on the credit card issuer, the amount available on the card, and the creditworthiness of the holder of the card. Many small business credit card issuers require the principal owner to be co-liable with the company. Issuers of small business credit cards include American Express, CapitalOne, Bank of America, and many others. Many credit cards offer promotional introductory rates of 0% for a short period of time (6-9 months). Cashback and rewards programs allow you to earn rewards from purchases on the credit card.

Step n°2 |

Research the Available Lenders

There are more lenders than ever before willing to lend to small businesses, and many of the lenders can be found from a simple online search. Here are the main types of lenders:



Direct online lenders. There are a number of online lenders that make small business loans through a relatively easy online process. Reputable companies such as Swift Capital provide very fast small business cash advances, working capital loans, and short-term loans in amounts from $5,000 to $500,000. Sites such as Fundera and LendingTree offer you access to multiple lenders, acting as a lead generation service for lenders.


Large commercial banks. The traditional lenders to the small business market are banks such as Wells Fargo, JP Morgan, and Citibank. These tend to be slower with more rigorous loan underwriting criteria.


Local community banks. Many community banks have a strong desire to make small business loans to local businesses.


Peer-to-peer lending sites. There are a number of sites that act as middlemen between individual and institutional lenders and small borrowers, including Prosper, LendingClub, and FundingCircle. These lenders can make decisions relatively quickly.


Bank lenders backed by SBA guarantees. A number of bank lenders issue loans backed by the SBA, and, as noted above, this backing allows the lenders to offer more attractive terms.

Step n°3 |

Anticipate How the Lender Will View Your Credit and Risk Profile

Lenders ultimately make a judgement call on whether or not to make a small business loan based on the borrower's credit and risk profile. Lenders will look at the following factors, so review them carefully and consider taking any appropriate remedial action:



Credit score/credit report. Lenders will review your credit report, credit score, and history of making timely payments under credit cards, loans, and vendor contracts. So review your credit report and clean up any blemishes that you can.


Outstanding loans and cash flow. Lenders will review your outstanding loans and debts to determine that your cash flow will be sufficient to pay existing loans and obligations as well as the new loan contemplated.


Assets in the business. Lenders will review the assets in the business (particularly current assets such as cash and accounts receivable) to see if there is a good base of assets to go after in the event of a loan default.


Time in business. Lenders will tend to look more favorably on businesses that have been operating for several years or more.


Investors in the company. Lenders will view the company more favorably if it has professional venture capital investors, strategic investors, or prominent angel investors.


Financial statements. Lenders will scrutinize your financials, as set forth in the next section below.
add_shopping_cartContinue reading for free (70% left)