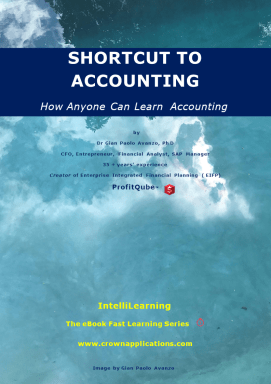 Shortcut To Accounting
How Anyone Can Learn Accounting with this 58 PDF guide.

by Dr. Gian Paolo Avanzo
Founder and CEO at Crown Consultancy Services Ltd, I worked as CFO and SAP senior FICO/Project/Transformation manager worldwide. I am committed to inspiring awareness of Best Planning Practices.
Follow 16
Description
Are you a Non-Accountant and want to improve your Accounting Knowledge?

Are you a Professional Accountant keen to present accounting concepts in a simple way?

My eBook will explain in non-technical words and in an easily comprehensible way what accounting is, how it was invented and for what reason, what is the principle of the double simultaneous entry or double entry bookkeeping, how to apply it to understand how much a simple business is worth and how this value is created.

Don't worry, the basic principles are elementary and learning them is quite simple even for those who don't have an accounting background.

This handbook is meant to be a quick guide and each chapter will describe the content in a simple and direct manner.
This means that you don't have to read hundreds of lines of text to understand the content, but a few targeted sentences will be enough for you to grab the idea.

After a short introduction on what accounting and double entry is, I will display the main concepts such as what is an account and what is used for, what are the main financial statements and their differences, always in an easy and simple way for you to apply these concepts to your own business.

If you are wondering or wanting to learn how to understand professional accountant's language quickly and efficiently then this is the right book for you!
This Best Practice includes
1 PDF Document
Acquire business license for $20.00
Add to cart
Add to bookmarks