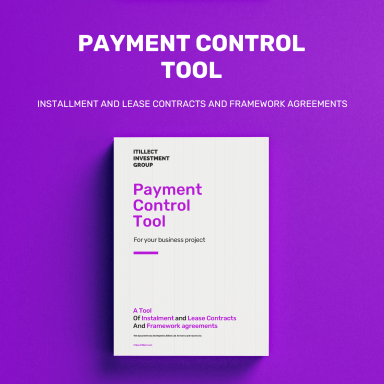 Payment Control Tool of Instalment and Lease Contracts and Framework agreements.
The tool has been designed to perform control over payments in accordance with instalment and lease contracts and frame

by Itillect
Financial Modeling / Planning & Perfomance / Business planing
Follow
Description
FUNCTIONALITY
• Transaction certificate issuing.
• Separate accounting of contractual payments and penalty application in terms of the next overdue payment.
• Individual payment schedule development.
• Development of a contractual transaction specification.
• Advanced and deferral payment determination.
• Penalty amount determination.
• Separate accounting of contractual payments and penalty application in terms of the next overdue payment.
• The payment method can be developed both as the one with equal instalments for a certain period and as an individual payment schedule.
• The first payment deferral and the advance payment amount can be assigned and calculated upon the beginning of the contractual obligations' fulfilment.
• The total sum of the transaction can be specified by means of the contract specification template filling or as a lump sum.

Teamwork
Take advantage of new opportunities for organising teamwork in Excel.


Starting with MS Office 365 (for PC), MS Office 2019 (for MAC), Microsoft realised the possibility of full-fledged teamwork in Excel.


For the organisation of distributed access using Microsoft Cloud OneDrive.
When several operators work simultaneously, information about the operations they perform is visually available. There are no more conflicts and automatically created secondary copies.


Open source code
For specialists, we offer the possibility of self-modification of the template code.


Excel is a tool that allows any specialist, having studied the basic functionality to create their own unique calculations, forms, graphics.

The open source code of a professional tool allows everyone to significantly reduce the time to get their unique result when planning. It is much easier to refine the functionality with a good open base.

Scalability
The template is dynamically expandable and has no limits
on the amount of input source information.
You define the scope and volume of the information you enter yourself.

Without VBA
The template does not use VBA and at the same time it is easily dynamically expanded using only regular Excel features.

The calculations we have created and the logic of data interaction are expanded by using the simple "copy past" operation.


Cross platform
The model works equally well on Excel for Windows and Mac.

This Best Practice includes
1 - Payment control tool; 1 - User's Guide; 1 - Payment control tool(Demo);
Acquire business license for $650.00
Add to cart
Add to bookmarks