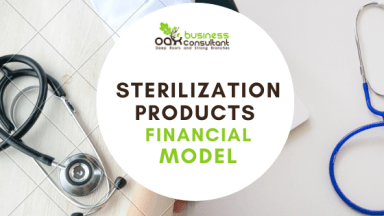 Sterilization Products Financial Model
The Sterilization Products Financial Model, Perfect for all medical products business with all related tables & input.

by Sadaf Abbas
CEO- Oak Business Consultant
Follow 33
Description
Our Sterilization Products Financial Model is designed to help you make informed principal business and financial decisions bases on accurate reporting. The model contains all relevant statements based on widely accepted international standards.

Choosing the right business model for your Sterilization products business needs assessing a lot of factors that are usually ignored. We have considered all critical products, and how marginal the sales will be, how much you can spend on the development and promotion of your brand.

Our financial model made by an expert oak business consultant will enable you to estimate the company profitability plan including, Employee Payroll Planning, startup Investment needs, expenditure and revenue streams, Breakeven Analysis, and Cash flow ins and out.

Moreover, it includes the input sheet of raw data that links to the, and any change in this sheet will directly impact all other developed sheets. It may help you analyze Company evaluation, the company's net present value, and some other points that will be essential for the analysis.

Summary of Key Features & Benefits

The workbook contains editable real-world revenue and expenses figures and comprises the following features:

Input Sheet

The whole idea of building the Input sheet is to create a dynamic set of projections about the business. It contains all relevant inputs like costs of service, investments, personnel expenditure, general and administrative expenses, and revenue assumption.

Start-Up Summary

This sheet provides an analysis of all the investment requirements of a new start-up and helps the business to present a snapshot of the company to prospective investors and help to raise capital.

Monthly Income Statement

The Monthly Income Statement sheet for Sterilization Business Financial Model is perfect for those who require regular reporting and details. Additionally, Income Statement contains all revenue streamlines with gross earnings, net earnings linked with revenue analysis to ensure accurate reporting.

Yearly Income Statement

We understand the goal of every Sterilization Products Business Financial Model business is to make a profit for that there must be a mechanism that helps the business owners to determine whether they are making profits or otherwise.
Furthermore, the Yearly Income Statement gives you complete insights into revenue and general & administrative expenses. The Yearly Income Statement also contains several graphs, assumptions, ratios, margins, net profit, earning, cost of services, and profit after tax.

Balance Sheet

We included Monthly and Yearly Balance Sheet and linked them with Cash Flow Statement, Income Statement, and other relevant inputs.

Cash Flow Statement

We prepared receivable and payable days to help users accurately predict cash activities, including free cash flow to the firm. For customers' ease, these receivable and payable days are set as Input so that the customer can change anytime he wants.

Break-Even Analysis

The break-even analysis will help you to know at a glance the profits generated at the various levels of sales. The safety margin refers to the extent to which the business can afford a decline before it starts incurring losses.

Project Evaluation

All businesses always caries risk; therefore, we included the evaluation sheet. So, it will help you to know at a glance the NPV in excel, IRR, and return on invested capital (ROIC).

Dashboards

Users and readers respond and process visual graphs better than data. Furthermore, charts visually track profitability, revenue, cash flow, and several other financial metrics.

Why do you need this Sterilization Product Financial Model?

This is why using our Sterilization Products Financial Model will be beneficial. for your business:

- Help you forecast your revenue and business viability, balance Sheet and income statements, vital
financial KPIs, cash flow, profit, all presented in graphs, and summaries of the financials.
- Sterilization Products Financial Model uses the calculations based on Traffic, purchasing customers,
and buy assumptions to have an accurate result.
- Investor friendly and easy to understand.
- Error-free projections Hence, easy to change
- 3-year expense assumptions
- Schedule for your loan payments.
- Calculate startup expenses.
8. Track and organize revenue streams.



This Best Practice includes
1 Excel Model
Acquire business license for $300.00
Add to cart
Add to bookmarks