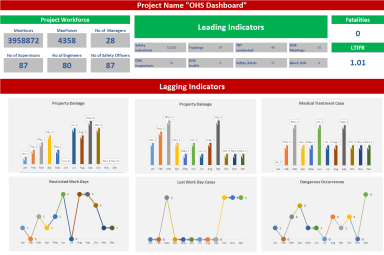 QHSE Dashboard Template
QHSE Dashboard Templatr

by Muhammed Mohsin
QHSE Engineer and auditor
Follow
Description
The QHSE dashboard is a decent tool which provides high quality overview of Health and Safety.

This is an excellent template to track monthly statistics of HSE KPls and analyzing trends.• It has good range of different HSE aspect to assist with HSE recording
and reporting. Data and graphs are ideally automated for consistent and automatic delivery on a monthly basis. It is fully editable file which can be easily customized and It is compatible with Microsoft excel.

Features:
The template covers full year trend of:

Manhours and Manpower
Total number of Managers on site, Total number of Supervisors on site, Total number of Engineers on site and Total number of Safety Officers on site
Number of Safety inductions and trainings
Number of TBT Conducted
Number of OHS Meetings
Number of OHS Inspections conducted
Number of OHS Audits performed
Number of Safety Alerts
Number of Mock Drill performed
Property damage
Number of First Aid Cases
Number of Medical Treatment Case
Number of Restricted Work Days
Number of Lost Work Day Cases
Number of Dangerous Occurrences
Number of Fatalities

It will surely impress your interested parties by creating a stunning dashboard which is easy to update, easily integrate and showing infographic charts.
This Best Practice includes
1 excel file
Acquire business license for $15.00
Add to cart
Add to bookmarks