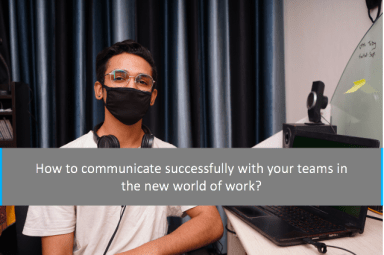 How to communicate successfully with your teams in the "new world of work"?
How to adapt our internal communications to the "new world of work" and optimise how our teams collaborate.
Introduction
Over the past 5 years Flexible working has become increasingly popular, in terms of flexible hours and of where you choose to work (at home or at the office). Research has shown that 74% of respondents in the US believe that flexible work has become the new normal❗️.


Given the recent times of the global pandemic 2020, many of us are now accustomed to the flexible structure of remote work. CEO at Goldman Sachs has even been quoted for saying remote work "will make us more comfortable in providing more flexibility to employees, which, by the way, makes this a more attractive place for people to work" 🗣. The outbreak of coronavirus has paved the way towards companies promoting remote work and offering more flexibility. What's more, it is expected that the workplace will experience an even bigger increase in remote workers out of choice📈.


Reading an article in Forbes magazine one morning with the title: 'How remote working is reshaping the future world of work?'📖, I began to think… as some companies begin to welcome their employees back to the office, how are we going to cope with the transition?🙋🏼‍♀‍ The transition between those who decide to work remotely and those who choose to work at the office. Most importantly, how will this affect our ability to communicate between remote workers and office workers? 🤷🏻‍♀‍


So… Here are 8 Steps to communicate efficiently in the "new world of work"👇🏻:
Step n°1 |

Start again with team building

Good communication starts by forming strong work relationship🤝. Often the power of small talk is underestimated and seen to be a waste of time⏰. Yet the truth is: the more you know about your team, the better you can communicate with them personally 🗣.


A good way to bring your team together is organising an afternoon of team building👫, it's a chance to get to know each other outside the day-to-day work environment. If you are struggling for ideas for team building sessions, why not try a personality test workshop? 💡 To suggest a few, there's the popular Myer-Brigg's Type indicator or the Walter Clark's DiSC test, which both identify your workplace personality. The ability to understand your teams "workplace personalities" is the key to knowing how to communicate with them🔑.


Team building creates a new openness within your teams as work relationships become more transparent👀. Team building done well can be transformative to your business communication. It can open the door to adopting a more open and friendly communication style in the workplace✅. 

Step n°2 |

Embody the style of communication you want your team to imitate

As a project manager or team leader👤, it is down to you to set the path for your team to follow👣. Being able to effectively communicate is a sign of good leadership✅. However, to effectively communicate you need to plan.


The manager or leader should consider how, when and where to communicate🧐. This means selecting a communication tool, setting a communication structure and scheduling time for interactions to take place. How the manager or leader decides to communicate will be reflected in the working style adopting by their teams.


So, it's worth starting by putting everybody on the right communication path✔️, by considering your own actions first and how they will inevitably impact your teams🤔.
add_shopping_cartContinue reading for free (70% left)