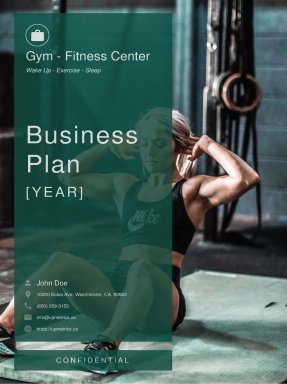 Gym Business Plan Example
If you are planning to start a new gym or fitness business, the first thing you will need is a business plan. Use our StayFit - Gym business plan example.

by Upmetrics.co
#1 business plan software
Follow
Description
Before you start writing your business plan for your new gym business, spend as much time as you can reading through some samples of the gym and fitness-related business plans.

Reading some sample business plans will give you a good idea of what you're aiming for and also it will show you the different sections that different entrepreneurs include and the language they use to write about themselves and their business plans.

Gym Business Plan Outline
This is the standard gym business plan outline which will cover all important sections that you should include in your business plan.

Executive Summary
Business Overview
Product and Services
Tone & Fit
Private Fit
Boot Camps
Private Group Fit
Corporate Fit
Karate Fit
Yoga Control
The Market
The Competition
Operations
Management Team
John Doe
Risk / Opportunity
Financial Requirements
Financial Summary
Sales vs. Net Profit
Margins
About StayFit
Industry Overview
Company Description
StayFit's History
Mission Statement
Goals and Objectives
Critical Success Factors
Company Ownership
Gym Design
Exit Strategy
Products & Services
Service Description
Tone and Fit
Private Fit
Boot Camps
Private Group Fit
Karate Fit
Yoga Control
Pricing Table
Unique Features
New and Follow-on Products/Services
Market Analysis
Industry Analysis
Industry Trends
Personal Trainers
Functional Fitness Training
Market Analysis
Market Segment and Target Market
Population
Income / Expenditure Statistics
Physical Activity In Canada
Aerobic Fitness Ratings In Canada
Competitor Analysis
Competitors
Greco Lean and Fit
The Athletic Club
Free Form Fitness
Barriers to Entry
Cost Structure
Sales & Marketing Strategies
Introduction
Market Segmentation Strategy
Targeting Strategy
Positioning Strategy
Product/Service Strategy
Pricing Strategy
Promotion and Advertising Strategy
Marketing Objectives
Marketing Vehicles
Promotional Budget
Sales Strategy
Lead Generation Strategies
Unique Selling Points
Sales Forecasts
Unit Sales
Dollar Sales
Management
Company Organization
Management Structure and Style
Organizational Chart
Organization Budget
Legal Structure
Operations Plan
Operations Strategy
Scope of Operations
Location
Personnel
Operations Expenses
Financial Plan
Start-up Funds
Assumptions
Break-Even Analysis
Income Statement (5 Year Projections)
Balance Sheet (5 Year Projections)
Cash Flow (5 Year Projections)
Ratio Analysis
Funding Requirement
Capital Requirements
Risk/Opportunity
Appendix
Year 1 - Monthly Profit & Loss Projections
Year 1 – Monthly Unit Sales
Year 1 - Monthly Sales Forecast
Year 1 - Monthly Direct Unit Costs Forecast
Year 1 - Monthly Direct Cost of Sales Forecast
This Best Practice includes
1. PDF File
Upmetrics.co offers you this Best Practice for free!
read for free
Add to bookmarks