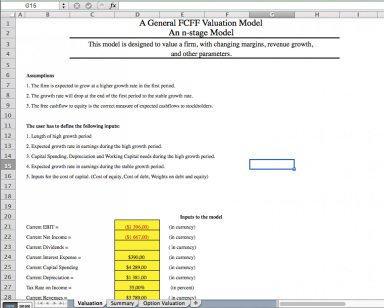 Generalized Free Cash Flow to the Firm (FCFF) Model for Negative Earnings Firms
This model is designed to value a firm, with changing margins, revenue growth, and other parameters.
Prof. Aswath Damodaran offers you this Best Practice for free!
download for free
Add to bookmarks
Further information
Outputs:
- Present Value of FCFF in high growth phase
- Present Value of Terminal Value of Firm
- Value of the firm
- Market Value of Debt
- Market Value of Equity
- Value of Options Outstanding
- Value of Equity in Common Stock
- Value of Equity per Share
Assumptions
- The firm is expected to grow at a higher growth rate in the first period.
- The growth rate will drop at the end of the first period to the stable growth rate.
- The free cashflow to equity is the correct measure of expected cashflows to stockholders.