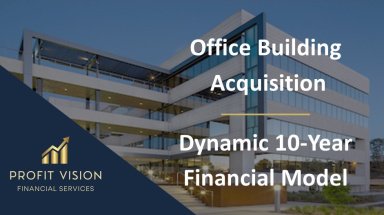 Office Building Acquisition Financial Model
Financial Model presenting an acquisition scenario of an Office Building.

by Profit Vision
Financial & Consulting Services
Follow 20
Description
Financial model presenting an investment scenario of an Office Building, from the acquisition of the property to a potential future sale.

The model contains the basic elements required to determine a range of possible IRR returns to an investor given a high level set of assumptions about the asset's operating forecasts, leverage and exit price.

Model Structure

• Acquisition Summary:

The summary tab includes all the critical information about returns and assumptions ready for a third party to review.
This page summarizes the following:
• General Info & Timing
• Acquisition, Financing and Exit Assumptions
• Risk & Return Metrics
• Cash Flow Summary per Year
• Key Performance Indicators
• Partnership Level Return Summary
• Property Level Return Metrics (Unlevered & Levered)
• Sensitivity Analysis & Charts

• Investors Returns Waterfall:
A standard 4-tier IRR hurdle waterfall model to distribute proceeds between investors

• Annual Cash Flow:
A roll-up of the monthly cash flows into annual periods from property acquisition to disposition.
It includes unlevered and levered cash flows, free and clear return, cash on cash return, debt service coverage ratio and the debt yield metrics per year.

• Monthly Cash Flow:
Monthly CF presents all the operating cash flows of the property over monthly periods.
It allows user to control the timing and how the cash flows over that time.

• General Setup
Operating and Acquisition related inputs including project timing, property metrics (rentable area, total offices, etc.), Revenue (rental, parking), Operating Expenses and Capital Expenditures assumptions.

• Tenants (Offices)
Assumptions regarding the offices (tenants) of the building (total SF per office, Parking Spaces per Office, Rentals Starting Month, Rental Terms, Rental Fees, Renewal/Vacate option)

Instructions on the use of the model are included in the Excel file.

Help & Support

Committed to high quality and customer satisfaction, all our templates follow best practice financial modeling principles and are thoughtfully and carefully designed, keeping the user's needs and comfort in mind.
No matter if you have no experience or you are well versed in finance, accounting, and the use of Microsoft Excel, our professional financial models are the right tools to boost your business operations!
If you however experience any difficulty while using this template and you are not able to find the appropriate guidance in the provided instructions, please feel free to contact us for assistance.
If you need a template customized for your business requirements, please e-mail us and provide a brief explanation of your specific needs.
This Best Practice includes
Excel Financial Model
Acquire business license for $129.00
Add to cart
Add to bookmarks
Further information
Presnts an investment scenario of an Office Building, from the acquisition of the property to a potential future sale.