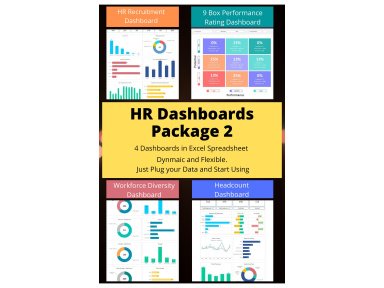 HR Dashboards Package 2
HR Dashboards Package 2 - Excel Template

by Biz Infograph
Biz Infograph is bringing clients a range of high-quality, well-designed, and easy-to-use professionally designed slides and dashboards.
Follow
Description
High Quality HR Excel Spreadsheet Templates and Dashboards
HR Dashboard package includes different financial Excel Dashboard Templates that will help you to appropriately organize major human resource indicators in one place and communicate the most important business information to your CEO, CXO, and team in an eye-catching way. This executive dashboard package visualizes organizational KPIs, metrics, and data.

The objective of the HR dashboard template is to help in tracking all relevant HR KPIs, effectively managing HR expenses, health & safety metrics, and HR training indicators.

HR Dashboard Package includes:

HR Headcount Dashboard
Recruitment Dashboard
HR KPI Dashboard
Workforce Diversity Dashboard
HR 9 Box Performance Rating Dashboard
Key Features:

with details of HR performance indicators, HR expense monitoring, health & safety, and training indicator
Visualize overall HR department performance
Fully editable, easy to use, template with sample data
Eye-catching design and customizable
Change the sample data with your data
Spreadsheets ready for printing without Biz Infograph logo
Consolidate key business performance indicators in one dashboard
No monthly fees
Immediate download
No VBA, no Macro
No installation necessary
Professionally designed
What is included in this dashboard template?

Ready dashboard just plug your data and start using. The dashboard will be ready instantly.
A text file which contains a password to view and edit the formula
A guide to unlocking all the elements in the dashboard
Professional Support:

Video tutorial guide on how to navigate and use each Dashboard Template
Professional service to customize dashboard template in excel as per business need
Help and support in post-purchase
Payment secured by Stripe and PayPal (no PayPal account needed)
Excel dashboard templates are password-protected to avoid mistakes, such as accidentally deleting formulas. When you completed the purchase, the password will be available.
This Best Practice includes
Excel Template
Acquire business license for $49.99
Add to cart
Add to bookmarks
Further information