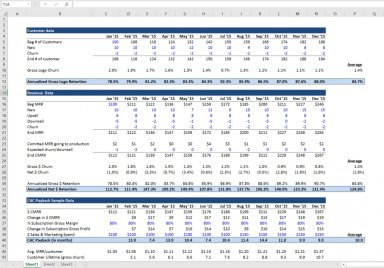 SaaS Metrics Excel Template
A standard SaaS reporting excel template for entrepreneurs to customize.

by Amit Karp
Partner at Bessemer Venture Partners
Follow 30
Description
I have previously spoken about the benefits of SaaS and specifically, the recurring revenue model. The main benefit of such a model is the predictability of revenue, customer acquisition payback, customer lifetime value (CLTV) and the ability to optimize sales and marketing expenditure.

But to really benefit from the recurring revenue model, it is necessary to speak "SaaS". The values and key performance indicators that a SaaS company keeps track of, tend to be things such as MRR, CMRR (Committed MRR), average ACV (Annual contract value), gross churn, net churn, CAC payback period etc.

I often come across companies that have a recurring revenue model but still measure bookings and billings, rather than the common SaaS metrics.

There is a great variety of blog posts that discuss SaaS and the metrics that should be measured. If you have a recurring revenue business, you must know it by heart.

It gives a poor impression when investors face a subscription based firm that still utilizes traditional, on-premise metrics to measure its performance.

Since I am often asked what a basic SaaS reporting template should include, I decided to publish a sample template that some of our SaaS firms use. Of course, all companies are different and management needs to focus on the unique aspects that are pertinent to what the business's prime priorities are.

For example, if you use a freemium model, you must measure conversion from free to paying accounts.

If you have a land-and-expand model you should instead focus on revenue expansion KPIs, and services that have long deployment cycles that should measure CMRR conversions to MRR.

Most of the time, it is helpful to have a starting point to do this, and this template should provide the guidance to do just that.

Being able to use common SaaS language and understanding how to track common SaaS metrics is a key first step to becoming a successful SaaS business.

With the use of this model, you are already halfway there.

- Amit Karp
This Best Practice includes
1 Excel Sheet
Amit Karp offers you this Best Practice for free!
download for free
Add to bookmarks