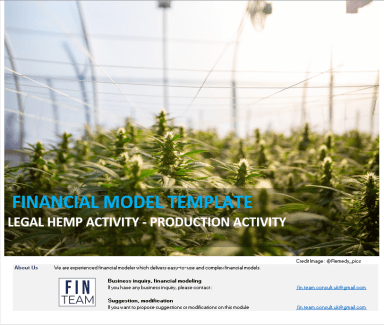 Hemp Business - Financial Excel Template
This is a simple template model to create financial projections for hemp business for cultivating activity in the US.
Acquire business license for $25.00
Add to cart
Add to bookmarks
Further information
Make IRR calculations
Create financial projection for the farming activity of hemp project(s)
The model was designed for hemp business in the US for hemp farming
This tool is very specific (hemp farming activity within the US). We built this model to be easy and flexible but if you require more sophisticated and/or personalized hemp model. Please contact us, we will provide you a quote and create the financial model you require.