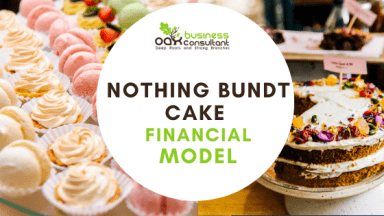 Nothing Bundt Cake Financial Model
The Nothing Bundt Cake Financial Model, Perfect for all Cake Shop Business with all relevant inputs and tables

by Sadaf Abbas
CEO- Oak Business Consultant
Follow 33
Description
Our Nothing Bundt Cakes Financial Model is designed to help you make informed principal business and financial decisions bases on accurate reporting.

We believe your business may need an accurate financial projection for a successful run. Therefore, Oak Business Consultant presents you with the Nothing Bundt cake Financial Model to help you analyze your financial viability.

Our Nothing Bundt Cakes Financial Model allows you to forecast revenue and expenses of a startup or existing business up to 60 months. It generates Three Financial statements (Profit and Loss, cash flow, balance sheet) on a monthly and annual basis., It also includes sales analysis, feasibility matrices, diagnostic tools, and a dynamic dashboard that are straight forward and easy to use.

The objective of the Nothing Bundt Cake Financial Model is to take every opportunity possible to help your business grow and try to work around keeping threats such as liquidity away from the business and to improve financial wealth for the owner and to build a good reputation within the community so people feel invited and welcomed when they visit your shop.

Key Features of Nothing Bundt Cake Financial Model

Input Sheet

The model contains inputs that, when changed, impact the calculations and, therefore, the changes are applied to all relevant sheets. A financial model always has built-in flexibility to display different outcomes or final calculations based on changing a few key inputs.

Startup Summary

This sheet provides an analysis of all the investment requirements of a new start-up and helps the business to present a snapshot of the company to prospective investors and help to raise capital.

Monthly & Yearly Income Statement

The Monthly Income Statement sheet for Nothing Bundt Cake Financial Model is perfect for those who require regular reporting and details. Additionally, Income Statement contains all revenue streamlines with gross earnings, net earnings linked with revenue analysis to ensure accurate reporting. We understand the goal of every cake business, is to make a profit for that there must be a mechanism that helps the business owners to determine whether they are making profits or otherwise.
Furthermore, the Yearly Income Statement gives you complete insights into revenue and general & administrative expenses. The Yearly Income Statement also contains several graphs, assumptions, ratios, margins, net profit, earning, cost of services, and profit after tax.

Balance Sheet

The statement provides the user with a complete overview of the current 3- years projection of your Assets and Liabilities and Equity Accounts.

Cash Flow

We prepared receivable and payable days to help users accurately predict cash activities, including free cash flow to the firm. For customers' ease, these receivable and payable days are set as Input so that the customer can change anytime he wants. The Cash flow analysis contains all relevant inputs that are linked with investment, finance, and operations.

Break-Even Analysis

The break-even analysis will help you to know at a glance the profits generated at the various levels of sales. The safety margin refers to the extent to which the business can afford a decline before it starts incurring losses. The Break-Even Analysis refers to the point where your total sales contribution refers to fixed cost at zero profit and loss situation. This Technique primarily based on the marginal costing which behaves differently at a different at a variety level of output activity.

Project Evaluation

Since the table calculates Return on Investment, Investor's Future Equity Share and Cash Burn Rate Analysis. Therefore, analyzing the performance of the company becomes easy.

Diagnostic Sheet

Since we added a unique table that automatically calculates the data, it provides financial commentary about the company's financials.

Dashboard

Users and readers respond and process visual graphs better than data. Furthermore, charts visually track profitability, revenue, cash flow, and several other financial metrics.

Why do you need our Nothing Bundt Financial Model?

You need this model because it provides you a dynamic dashboard and well developed financial tools and measures that are easy to use and straightforward. Also, this model has a 5-year financial projection plan to ensure steady growth and profitability. It can also forecast ongoing bakery expenses, monthly sales and sales mix, startup investment requirements and inventory. Also, This model is prepared for smooth cash flow budgeting, with a clear set of revenue assumptions around the starting and operating a cake shop. Smart use of tables, graphs, reports, and financial Pro-forma can make your cake shop Financial Plan clear and easy to work with even you have a little amount of Financial Knowledge.




This Best Practice includes
1 Excel Model
Acquire business license for $300.00
Add to cart
Add to bookmarks