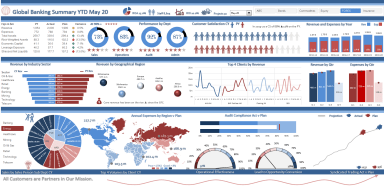 Company KPI Dashboard Model - by Department
This KPI dashboard summarises financial data by department and allows drill through on multiple levels.
Acquire business license for $99.00
Add to cart
Add to bookmarks
Further information
The tool is designed to provide as succinct summary for actual v plan v prior year data in a single page KPI dashboard.
Organisations or individuals who wish to incorporate a range of financial, operational and human resource data will get the most from this tool.
The file is professionally formatted to easily cut and paste key data into this workbook and have the data flow through to the calculations pages.