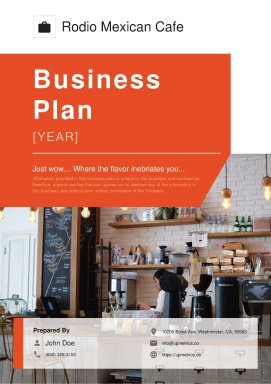 Food Cafe Business Plan Example
If you are planning to start a new food cafe business, the first thing you will need is a business plan. Use our Mexican Rodio - food cafe business plan.

by Upmetrics.co
#1 business plan software
Follow
Description
Before you start writing your business plan for your new food cafe business, spend as much time as you can reading through some examples of free food and restaurant business plans.

Reading some sample business plans will give you a good idea of what you're aiming for and also it will show you the different sections that different entrepreneurs include and the language they use to write about themselves and their business plans.

We have created this sample food cafe business plan for you to get a good idea about how a perfect food cafe business plan should look like and what details you will need to include in your stunning business plan.

Food Cafe Business Plan Outline
This is the standard food cafe business plan outline which will cover all important sections that you should include in your business plan.

Executive Summary
Introducing Rodio Mexican Cafe
Funding Requirement & Capitalization Plan
Summary of Financial Highlights
The Cafe
The Rodio Experience
The Rodio Vision
Purpose Statement
Cuisine Overview
Jessica's Tienda de Regalos
Other Rodio Activities
Keys to Success
Customer Service Excellence
Creating a Great Service Staff
Attention to Details
Ambiance
The Menus
Everyday Menu
Appetizers
Soups
Salads
Entrees
Kid's Menu
Sunday Brunch Menu
Restaurant Operations
Restaurant Operating Policies
Strict Inventory Controls
Purchasing Cost Controls
Recipe & Portion Controls
Cross Utilization of Inventory
Sanitation & Food Handling
Effective Management
Software & Systems
Training Program
Money Management
Retention through Support & Feedback
Operating Details
Market Analysis
Target Market
Market Segmentation
Rodio's Neighbors
Competition
Competitive Landscape
Key Competitors
Competitive Advantages
Marketing
Market Positioning & Branding
Marketing Strategies
The Rodio Team
The Founder
Jane Doe
The Rodio Staff
Compensation Program
Professional Services Providers
External Issues
Financial Plan
Funding Requirement & Capitalization
Summary of Financial Highlights
Brunch Revenue Assumptions
Lunch Revenue Assumptions
Dinner Revenue Assumptions
Balance Sheet (Five-year projections)
Income Statement (Five-year projections)
Cash Flow Statement (Five-year projections)
This Best Practice includes
1. PDF File
Upmetrics.co offers you this Best Practice for free!
read for free
Add to bookmarks