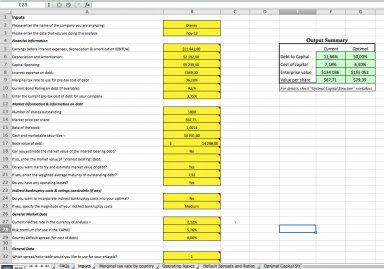 Optimum Capital Structure (Cost of capital approach)
An excel model to estimate the ideal capital structure for a corporation.
Prof. Aswath Damodaran offers you this Best Practice for free!
download for free
Add to bookmarks
Further information
Provides a picture of your firm's current cost of capital and debt ratio, and compares it to your firm's optimal debt ratio and the cost of capital at that level. The firm value is computed at each debt ratio, based upon how the expected operating income and the cost of capital. The optimal debt ratio is that ratio at which firm value is maximized. It might not be the same point at which cost of capital is minimized.
This spreadsheet allows you to compute the optimal capital structure for a non-financial
service firm