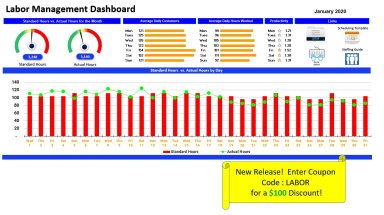 Labor Management Dashboard
Labor Management Dashboard and Schedule Template with Labor Standards

by Steve Lindsey
Where Every Template is Guaranteed a 100 Times Payback
Follow 20
Description
Managing variable labor where revenue and production fluxes by day is critical in bringing profit to the bottom line. Scheduling labor to sync to volume changes takes diligence with a clear focus on analytics.

Whether you are a hotel where occupancy changes daily, a restaurant where weather, or the day of the week drives covers, a manufacturing company where the pipeline of orders ebbs and flows, or a retailer projects business based on promotions, there will always be an opportunity to be proactive.

A key tool for scheduling labor involves the practice of building Labor Standards, also known as Staff Planning Guides. These guides define the tiers where variable labor is scheduled as business levels increase.

Once these guidelines are established, managers can schedule labor to short term weekly forecasts, where the scheduled hours are in parity with the expected business level.

The Labor Management Dashboard not only helps establish labor stands, it also provides a labor scheduling template, and an analysis by day of deviations between actual worked hours versus the labor standard hours based on the business volume guidelines.

The weekly scheduling template compares scheduled employee hours to the labor standards by day and for the week. The manager doing the schedule, can quickly adjust the schedule to ensure that labor is not being over scheduled.

The Labor Management Dashboard is an invaluable tool for managing labor costs. It will save labor during low demand and ensure that labor is scheduled to meet service and production demands when business is up!
This Best Practice includes
1 Excel Template
Acquire business license for $189.00
Add to cart
Add to bookmarks