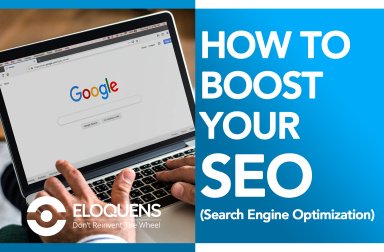 How to Boost your SEO (Search Engine Optimization) for your published Eloquens Best Practices💎
SEO stands for Search Engine Optimization.🤓 The successful process of naturally obtaining traffic from Search Engines.✅
Introduction
Doing SEO properly isn't just about better rankings; it's about a better user experience.👌 Search engines don't only scroll through your key words. Search engines evaluate your whole site.🔍 They want to see things like a good mobile site, relevant pictures and videos, users staying on your website for a long time, etc. The better your user experience, the higher you will rank, and the more users you will have.😄 As well as this, user experience has a direct correlation to brand loyalty, trust, and conversion rates.


You're saving money! As much as paid ads and social media are now to thank for a good number of referrals, organic search still accounts for 64% of all traffic🚦 according to a study conducted by Conductor. This means that it pays💰 to work on your SEO strategy.


If you're a local business, ranking highly in your local search will lead directly to increased sales and visits.📊 A study by Google has shown that 50% of consumers that searched for a local business on their phone visited the store that same day.


Therefore, Follow these steps below to maximise your SEO today! 
Step n°1 |

Ensure your Best Practice💎 is of Desired Content

When pulling a Best Practice💎 from your treasure chest, or even creating a Best Practise from scratch, prioritise topics which spark interest. Find the Hot Topic.🔥

thumb_up Compare yourselves to other online communities, authors or websites in your area of expertise for inspiration. Identify your very own popular or up and coming niche to seperate yourself from others to ensure purchases and downloads.

Step n°2 |

The Importance of Each Section on Eloquens.com‼️

Before reading the tips on how to maximise your SEO, learn the importance of each section so that you can understand WHY🤔 SEO is crucial to the success of your Best Practices💎 and Eloquens Author Channel. 

thumb_upTitle – This is what appears on Google & is what the URL consists of.
Short Description – Meta Deta, this is what is shown below the Title on the Google Search Page
Key words – The Words that people would search in on Google in order to find your Best Practices
Description – Furthermore, since 2013, Google algorithm has been updated to a system called "Hummingbird". "Hummingbird" places greater emphasis on natural language queries, considering context and meaning over individual keywords. Therefore, break all the information into chunks in clear and consice information so that it is super for the system to pick up on it.👍


Away from SEO, think of the users perpective: Add Preview Images, Highlight what Type of Document it is and an Explanatory Video if possible. When they land on your page leave them without any questions!!!
Continue to the Next Step to learn How-To Optimize your title Tag and Meta-Description.
add_shopping_cartContinue reading for free (70% left)