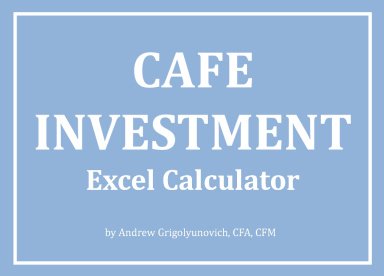 Cafe Investment Excel Calculator
This is an ROI calculator to help assess the viability of investing in a café.

by Andrew Grigolyunovich, CFA, CFM, FMVA
Founder & CEO at The Financial Modeling World Cup
Follow 161
Description
This is an easy-to-use tool for those looking to open a café and wanting to calculate its return on investment.

Available to download and use instantly, this MS Excel calculator will demonstrate the return of the café and the break-even sales volume, calculated from the assumptions.

Within this calculator are the following worksheets:

Assumptions: This contains the key assumptions that are needed to calculate current costs and sales in the NPV section. Includes assumptions such as the area of commercial premises, rent, public utilities and others.

Investments: This section is for the user to input all that is necessary for café, including kitchen equipment, hall equipment, and furniture.

Employees: Worksheet used to calculate the total monthly salary for all employees.

Scenarios: This part helps to evaluate investment in four different scenarios (Min, Avg, Max, Break-even)

NPV Plan: This is the main worksheet, which contains a table with the main calculations for the investment project. In this worksheet such indicators as PV, NPV and ROI are calculated.

NPV Chart: This shows your projected café development over time.

Solver

If you have any questions or need more insights into this ROI calculator for your café investment, don't hesitate to either start a discussion below or private message directly via my Eloquens author channel.

Enjoyed this tool? Leave a rating and review to show your appreciation!
This Best Practice includes
1 Excel Model, 1 Excel Demo version
Acquire business license for $19.00
Add to cart
Add to bookmarks