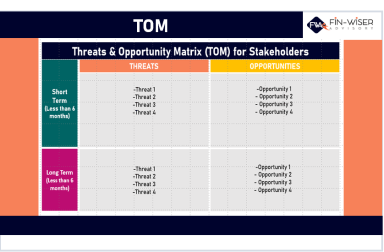 Threat and Opportunities Matrix (TOM)
Simple and powerful tool used as an enhancer of strategic thinking to accelerate changes in your organization.
Fin-Wiser Advisory offers you this Best Practice for free!
download for free
Add to bookmarks
Further information
The concept with the Threat vs. Opportunity Matrix is to put yourself in the shoes of the stakeholders. They might be impacted by various projects, s running across organization. It becomes extremely important to understand and absorb their perspective. You can frame the need for change as a short-term threat which gets attention and creates urgency.
Project Management
Stakeholder Management
Continuous Improvement
Change Management
Any Sigma Project
Lean Project