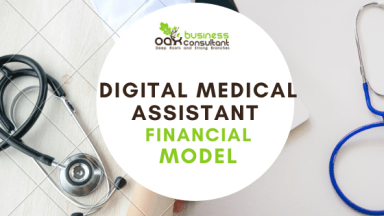 Digital Medical Assistant Financial Model
The Digital Medical Assistant Financial Model, Perfect for all Online Medical Business with all related inputs and table

by Sadaf Abbas
CEO- Oak Business Consultant
Follow 33
Description
Has your health care business been assisting patients online? Our Digital Medical Assitant Financial Model designed to help you make informed principal business and financial decisions bases on accurate reporting.

We believe your business may need an accurate financial projection for a successful run. Since, according to the Pew Research Institute, 95% of the Americans are asking medical and health questions online every single month. Therefore, Oak Business Consultant presents you with Digital Medical Assistant Financial Model to help you analyze your financial viability.

Our digital medical assistant financial model will allow you to calculate several important financial related business scenarios and strategies, even if you don't have enough knowledge of the basics of financial modeling and investment & Fund management. Therefore, By using this model, you will get a universal decision-making KPI measure and tools by which you can alter the project concept by choosing the optimal parameter values.

The 3-year digital medical assistant financial plan works by planning revenue, forecasting profitability, and startup summary cost.

The medical services industry is quite vulnerable. However, considering all the possible risks in advance, you can reduce or manage your business risk. The main thing is to design and use a good business finance plan that may build a client's trust in your clinic.

Summary of Key Features & Benefits of Kiosks Financial Model

Input

The model contains inputs that, when changed, impact the calculations and, therefore, the changes are applied to all relevant sheets. A financial model always has built-in flexibility to display different outcomes or final calculations based on changing a few key inputs.

Revenue Assumption

We understand the financial need for your Digital Medical Assistant Financial Model. Therefore, we have created a simple, yet dynamic form of revenue assumption for our clients. Moreover, the revenue input includes revenue generated from consultations offered to the patients, revenue generated from commissions, and revenue from collaborations and advertisements. Furthermore, the Financial Model will allow you to edit/add/delete any assumption you may want to include/exclude according to your financial requirements.

Startup Summary

This sheet provides an analysis of all the investment requirements of a new start-up and helps the business to present a snapshot of the company to prospective investors and help to raise capital.

Monthly & Yearly Income Statement

The Monthly Income Statement sheet for Digital Marketing Assistant Financial Model is perfect for those who require regular reporting and details. Additionally, Income Statement contains all revenue streamlines with gross earnings, net earnings linked with revenue analysis to ensure accurate reporting. We understand the goal of every digital medical assistant business, is to make a profit for that there must be a mechanism that helps the business owners to determine whether they are making profits or otherwise.
Furthermore, the Yearly Income Statement gives you complete insights into revenue and general & administrative expenses. The Yearly Income Statement also contains several graphs, assumptions, ratios, margins, net profit, earning, cost of services, and profit after tax.

Cash Flow

We prepared receivable and payable days to help users accurately predict cash activities, including free cash flow to the firm. Hence, these receivable and payable days are set as Input that allows the customer to make changes anytime he wants.

Balance Sheet

The statement provides the user with a complete overview of the current 3- years projection of your Assets and Liabilities and Equity Accounts.

Project Evaluation And Break-Even Analysis

Since the table calculates Return on Investment, Investor's Future Equity Share and Cash Burn Rate Analysis. Therefore, analyzing the performance of the company becomes easy. This Sheet also contains a Break-Even Analysis which will help you to know at a glance, the profits generated at the various levels of sales. The Break-Even Analysis refers to the point where your total sales contribution refers to fixed cost at zero profit and loss situation. This Technique primarily based on the marginal costing which behaves differently at a different at a variety level of output activity.
Sensitivity Analysis

The Sensitivity Analysis is used to measures the effect of the unpredictability of one or more independent variables, which drive uncertainties to the dependant variables. This analysis helps to improve the prediction of the model or reduces it by acknowledging the variable phenomenon and understand the relationship between input parameters and outputs

CAC/CLTV

Customer Acquisition Cost (CAC) and Customer Lifetime Value (CLV) are two essential metrics for any company. CAC is the amount a company spends to convert any lead into a customer. In contrast, CLV is the income a company expects to generate from its customer over the life of the service provided. A customer might mean different depending upon the nature of any business. The ratio of CLV to CAC is an extremely important KPI that should be tracked by a company. By using this template, You can formulate a simple Customer Lifetime Value model for your company.

Dashboard

Users and readers respond and process visual graphs better than data. Furthermore, charts visually track profitability, revenue, cash flow, and several other financial metrics.

Reasons to use Digital Medical Assistant Financial Model

The Model Can Convince Investors

The presentation of models is its key factor to attract different investors. Hence, this model uses a graphical representation of your business in order to make it tranquil for anyone to evaluate the data by anyone. Moreover, graphs, charts, and other diagnostic tools sheets are also added which tells the investor about the current status of a company in a single line.

Ease of Use

Moreover, many models on the internet are available but most are complex and a user with no finance knowledge will find it difficult to use. Since the Template we built is highly dynamic and user friendly. Therefore, you do not need to read long boring manual or instructions to use the template.

Great Value for Money

In addition, the Financial Model contains every statement, analysis, and charts. Hence, Its best suited for start-ups and SMEs. Many models available contains a few sections or sheets of financial modeling. For example, a model doesn't contain a balance sheet or business ratios or there aren't any graphs. Furthermore, we have included everything from inputs to balance sheets to diagnostic tools making the model of great value for money.
This Best Practice includes
1 Excel Model
Acquire business license for $300.00
Add to cart
Add to bookmarks