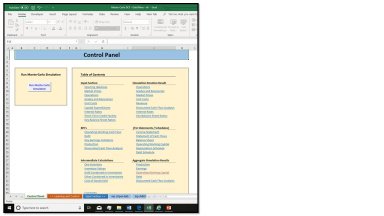 Monte-Carlo Simulation - Forecast - Key Performance Indicators - Gold Mining Industry
Monte-Carlo simulation to determine select KPI's for a Gold Mine.
Acquire business license for $3.00
Add to cart
Add to bookmarks
Further information
The objective of this business tool is to show the distribution (risk) of key variables in a Gold Mining project and associated operations. A Monte-Carlo simulation is conducted on 46 variables simultaneously. The simulation is executed and recorded for 100 iterations. Simulation results are used to create histograms and high-lo charts for several select key indicators.
Gold Mine Industry / Industry