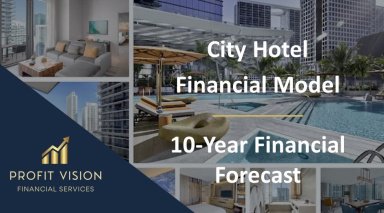 City Hotel Financial Model – Dynamic 10 Year Forecast
Financial model presenting an operating scenario of a City Hotel.

by Profit Vision
Financial & Consulting Services
Follow 30
Description
A City Hotel is one of the most common hotel types. It provides accommodation and meals to travelers coming from all over the world to stay so that they can tour around the city where the hotel is located. Guests (who are more tourists on the go or business travelers) do not usually spend their day in the hotel and they only come back to sleep and shower and maybe for a meal or two. In general City Hotels are more a place to stay, compared to Resorts which are destinations. City hotels can also attract outside visitors (non-guests) in their Bars, Restaurants and Spa Centers (if available) and create additional profit from these sources.
This Financial Model presents an operating scenario of a City Hotel and enables users to get into details of every step of a hotel project from operating and profitability analysis, projection of cash flows to a potential future sale.
The model allows user to select whether the hotel is owned or operates under a lease agreement and includes assumptions and calculations of two main Revenue Sources (Accommodation and Additional Services for Hotel Guests and outside visitors), Cost of Sales, Payroll and Operating Expenses, Capital Expenditures, financing through Debt & Equity and business valuation multiples.
Outputs of the template include forecasted Monthly Operating Budget, Annual Financial Statements (3 Statement Model), Profitability Analysis, Breakeven Analysis, Business Valuation including Sensitivity Analysis and Return Metrics (IRR, MOIC, NPV, etc.), and Investors Returns Waterfall.
A variety of KPIs and Financial Ratios (Occupied Rooms and Nights, ADR, RevPAR, Profit Margins, ROE, ROA, etc.) analyzes business performance and the company's results are presented and summarized on a professional Executive Dashboard.
The model is dynamic and allows users to select the desired forecasted Years (1 to 10).
The structure of the template follows Financial Modeling Best Practices principles and is fully customizable.


Model Structure


Inputs:
• Ownership Status (Owned or Leased)
• Revenue & Cost of Sales Assumptions including Operating Days, Occupancy Rates per month, Room types & Prices, Additional Services (Restaurants & Bars, Spa Center, Conference Room, Gift shop, Hair Salon) and Direct Costs (Commissions to TAs, Room Expenses, Discounts & Promotions, etc.)
• Payroll, OpEx & CapEx Assumptions
• Financing & Capital Structure – Uses & Sources of Cash analysis (Financing through Equity & Debt)
• Exit Year Scenario & Valuation Multiples


Outputs:
• Monthly Operating Budget
• Dynamic 10-Year Financial Forecast (3 Statement Model)
• Profitability Analysis per room type and operating year
• Breakeven Analysis per operating year
• Summary of various KPIs and Financial Ratios (ADR, Revpar, TRevPar, Occupied Rooms, Revenue & Cost Metrics, ROE, ROIC, Profit Margins, etc.)
• Business Performance Dashboard
• Business Valuation (incl. Enterprise & Equity Value, DCF, Terminal Value, Unlevered & Levered Cash Flow, Project Return Metrics & Sensitivity Analysis)
• Investor Returns (4-tier IRR hurdle waterfall model to distribute proceeds between investors)
• Professional Executive Summary (can be used for investment decisions)


Detailed instructions on the use of the model are included in the Excel file.



Help & Support
Committed to high quality and customer satisfaction, all our templates follow best practice financial modeling principles and are thoughtfully and carefully designed, keeping the user's needs and comfort in mind.
No matter if you have no experience or are well versed in finance, accounting, and the use of Microsoft Excel, our professional financial models are the right tools to boost your business operations!
If you however experience any difficulty while using this template and you are not able to find the appropriate guidance in the provided instructions, please feel free to contact us for assistance.
If you need a template customized for your business requirements, please e-mail us and provide a brief explanation of your specific needs.
This Best Practice includes
Excel Financial Model
Acquire business license for $119.00
Add to cart
Add to bookmarks
Further information
Presents an operating and valuation scenario of a City Hotel, which is either owned or operating under a lease agreement.