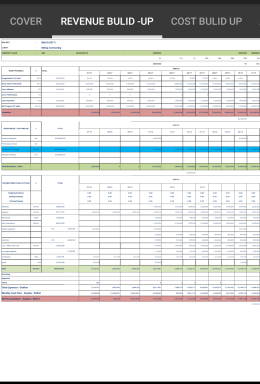 Projections Plan Template
Long-term contracts Financial plan in Microsoft Excel.

by Rami Abbas
Financial Analyst with 13 years experience. Specialized in feasibility studies and financial plans.
Follow
Description
Due to the proliferation of contracting companies that implement industrial and construction projects, the need has become urgent to implement principles and concepts in these companies in order to be able to control their expenditures and revenues and implement their projects in an economic and profitable manner, which helps to complete projects according to the required specifications and on time, which achieves the required profitability for these companies. The general and specific objectives of the development plans are met.
Contracting project contain many Financial element such as program work ,advance payment, retention, performance bond, bank guaranty, bank letter of credit, subcontractors, payment certificate.
this financial plan is so helpful to deal with all this elements to manage and control the project and reach the goal.

The companies with long-term contracts and many projects need to gather all projects revenues and costs, cash in one sheet with small details of payroll and assets and overhead exp. depend of the capacity of the projects and determinate the capital need to finance all this projects .

It includes:
-revenue build up
-cost build up
-assets schedule
-payroll
-over head exp.
-ratio
-financial leverage
-assumption
-cash flow
-balance sheet
-income statement
-feasibility analysis
-depreciation
-DCF
-NPV
-IRR

Thanks
Rami Abbas.

This Best Practice includes
Excel Template
Acquire consulting license for $25.00
Add to cart
Add to bookmarks