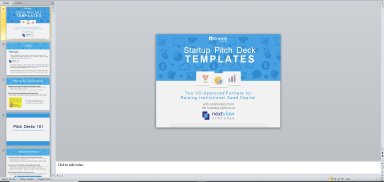 2 Pitch Decks for Raising Seed Capital
2 pitch decks with 2 unique styles: one for a conversation style meeting, and the other for a presentation style pitch.

by Next View Ventures
Investing in founders that are redesigning every day life.
Follow 10
Description
Next View Ventures are commonly asked how to create startup pitch decks. Last year, they launched two board deck templates for seed-stage startups in their existing portfolio. After the positive reaction they received, they decided to broaden their reach to those outside of their portfolio. The response signaled that what those were raising a seed round really wanted was pitch deck templates.

There are numerous pitch deck templates online, but Next View Ventures gathered that many of them are generic and not specific enough to seed-stage startups. They generally do not have enough story-telling components and are lacking in layout and design sensibility.

So, we hope these two deck resources can address both issues. We also aimed to take these one step further by adding our own VC commentary throughout the slides and by providing two different, somewhat unique versions of great pitch decks.

These decks have been created with the aim of addressing the above issues. Next View Ventures have also added commentary from their own VCs throughout both pitch decks to help even further.

Two Unique Pitch Deck Styles

Creator of these slides: Jay Acunzo, asked VCs within the company their ideal pitch decks and their ideal startup pitch from the ground up. The consensus at Next View Ventures was that meetings for startup pitches should come in two different approaches:

The first being a conversation:

Generally when you begin to raise a seed round, the pitch process with a Venture Capitalist firm starts with a few small meetings, or otherwise pitching to angel investors on their own. In this context, you usually won't stand up to pitch your deck; a casual, human interaction is more effective. The approach is more like a chat about your company's story.

Conversation-style meetings are a great way of allowing both sides to learn about one another.

The second style of pitch is more of a show.

The presentation could be a demo-day scenario in front of a crowd, or could be to a large group like numerous partners of a big firm. The interaction is very different in this approach. It's a lot more one-sided.

In this style of pitch, you have to be careful to choose the details in which you'd like to dive into more deeply, because you don't want your audience to miss anything important, nor do you want them to end up confused.

Your goal here will be to convince the audience of your story and generate excitement about the opportunity, as well as convincing them that success will be inevitable. Emotion is an important element here, because it could be the one and only major interaction you will have with this group of people throughout your fundraising process.

The problem with the standard pitch deck is usually that they tend to intertwine the two styles which just results in a lot to be desired form the investor point of view.

These two pitch decks aim to rethink the idea of what pitches should be to suggest two separate pitch decks; one labeled the "Kitchen Sink," and the other labelled "The Show."

*Originally shared on NextViewVentures.com*
This Best Practice includes
1x 102 Slide Pitch Deck Template
Next View Ventures offers you this Best Practice for free!
download for free
Add to bookmarks