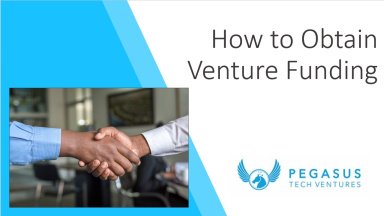 How to Obtain Venture Funding - 7 Critical Factors
Discover the 7 critical factors that will help you obtain venture capital funding.
Introduction
Sometimes there is nothing more powerful than the passion and vision of an entrepreneur. But sometimes passion and vision are just not enough. It helps to understand the criteria that venture capital firms use to decide which companies to fund.

Some venture capital firms and corporate investors have very narrow criteria—specific technologies at specific stages in specific regions of the country. Others have broader criteria and invest across many technology sectors and geographic locations.

But all investors look for certain critical components in an early-stage company. Below is a brief summary of these critical criteria. If you meet these criteria, you may be able to continue to the next step in the venture financing process. If you don't, you are likely to receive a polite note passing on your opportunity.
Step n°1 |

Compelling Idea

Every entrepreneur believes his or her idea is compelling. The reality is that very few business plans present ideas that are unique. It is very common for investors to see multiple versions of the same idea over the course of a few months, and then again after a few years. What makes an idea compelling to an investor is something that reflects a deep understanding of a big problem or opportunity, and offers an elegant solution. This is the starting point for getting venture investors interested, but it is not sufficient. The idea alone does not make you fundable. You have to possess the rest of the ingredients below.

You may have a great idea, but if you don't have a strong core team, investors aren't going to be willing to bet on your company. This doesn't mean you need to have a complete, world-class, all-gaps-filled team. But the founders have to have the credibility to launch the company and attract the world-class talent that is needed to fill the gaps. The lone entrepreneur, even with all the passion in the world, is never enough. If you haven't been able to convince at least one other person to believe in the business as fervently as you, investors certainly won't. Winning over investors (and customers and co-workers) depends on your people skills, not just your technical prowess.
add_shopping_cartContinue reading for free (70% left)