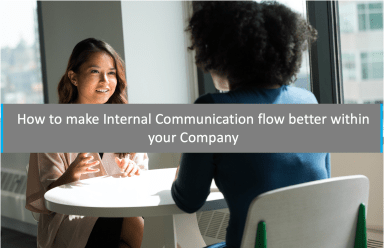 How to make Internal Communication flow better within your Company
Maintaining regular communication with your employees is essential - discover how to improve internal communication.
Introduction
Communicating with your employees is imperative so that the business is a success and functions well. Don't forget that your employees are your most valuable resource given that today, it is almost impossible for a business to function without a strong workforce.
Your team is equally a reflection of your brand. Happy and well-rounded employees don't hesitate to sing the praises of your business and offer you excellent free publicity. Inversely, unsatisfied employees will badmouth your business' image which any external branding campaigns will not be able to rectify. This will result in your business attracting fewer candidates during recruitment and also fewer clients and partners.


Discover what internal communication is, its importance and how to improve it with these 5 pieces of advice.


Internal Communication: Definition and Importance


According to www.definitions-marketing.com, internal communication includes all communication aimed at its employees carried out within the company or organization. It depends on the department of human resources or communication.
In order to be productive and to feel good at work, your employees need to know that the business is healthy and that the work they do there contributes to it, hence the importance of internal communication.


Internal communication benefits are extensive, from being a managerial and motivational tool to aiding many other functions to:


• Circulate information
• Increase results
• Explain new strategies
• Motivate employees
• Cultivate employees feeling a sense of belonging in the business
• Reinforce the connection between employees and their superiors
• Improve the general atmosphere of the company


Internal communication is based around multiple different types of media:


• Written communication through posters, the company's newsletter, the welcome booklet
• Oral Communication in meetings, conferences, business seminars, internal radio shows
• Audio-visual Communication thanks to video production
• Electronic communication across the internet, intranet, an internal newsletter and the social media sites of the company
• The organization of internal events and team building activities


How can you improve internal communication at the heart of your business?


To boost your internal communication, don't hesitate to combine multiple communication methods and to follow the following 5 pieces of advice.
Step n°1 |

1. Distinguish different types of information

All of the information that circulates in your business are not to be communicated to everyone. In order to avoid creating problematic situations, start by categorizing the information into criteria such as:


• Its importance
• Its urgency
• Its level of confidentiality
• Its target (all your employees, to a certain department, or uniquely to the managerial team)
• Its method of circulation, internal or external


In this way, you will be sure to transmit the right information to the right audience. You avoid all leaks of personal details and every employee will receive all the information that they will need in order to perform daily to their highest level.

Step n°2 |

2. Communication adapted to your business

Your internal communication strategy essentially depends on the size of your business. A start-up or a SMB will not have the same communication budget as a multinational business.


Therefore, put in place an internal communication system adapted to your financial capacity, your employees and your industry. For example, if you are specialised in emerging technology and 90% of our employees are technologically orientated, they will be a lot more receptive to electronic communication than by paper.
add_shopping_cartContinue reading for free (70% left)