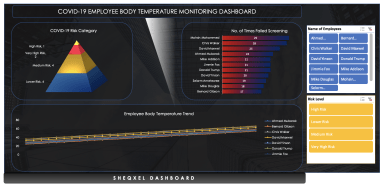 COVID-19 Body Temperature Log
A simple template for logging daily body temperature of workers for early detection of COVID-19 suspects.

by SHEQXEL
HSE Dashboards ~ Excel Applications
Follow 68
Description
In these trying times of COVID-19 Pandemic, employers are making efforts to ensure that sick employees do not come to work. The WHO identifies FEVER as one of the symptoms, which is temperature measured at 100.4 F or 38 C or greater. Checking temperature is permissible but not determinative of COVID-19, since fever can be associated with other sickness, although, it provides a good ground for sending sick workers home.

Are you in charge of temperature testing of employees?

COVID-19 Body Temperature Log is a simple template for logging daily body temperature values of workers as part of the proactive measures for early detection of symptoms and preventing the spread of COVID-19 at the workplace. The template is designed to log temperature reading from any infrared digital thermometer gun for easy analysis of the temperature trends and to use as a trigger for sending sick workers home to avoid potential COVID-19 infection.

The template has these features;

The Approved list for users to provide the list of all their employees and classify them based on the COVID-19 risk exposure levels as provided on the OSHA Guidance on Preparing Workplaces for COVID-19. Users can set the COVID-19 Temperature Target in Fahrenheit or Celsius to match the Unit of Measure of their infrared digital thermometer gun.

The COVID-19 Temperature Log Sheet provides room for recording temperature readings of 50 workers for 31 days. The sheet is conditionally formatted to show red flags when temperature exceed the COVID-19 Target line or green flags for acceptable body temperature. This is the main source data for the dashboard and other reports.

The Dashboard features a pyramid chart to show OSHA's risk pyramid for COVID-19, line chart with target line to visualize temperature trend of 50 employees and the extent to which temperature trend exceeds the target line to indicate that they are sick with FEVER and could be a potential COVID-19 suspect. The dashboard has a bar chart to visualize how many times employees of have failed temperature testing with high temperatures.

The COVID-19 Risk Pyramid Sheet gives a summary of employees and risk exposure level based on the worker exposure risk evaluation done on the approved list. These are represented in a table and a pyramid chart.

The Screen Failure Frequency Sheet gives the number of times employees have recorded high temperature exceeding 100.4 Fahrenheit or 38 Celsius as a sign of FEVER which could be associated with COVID-19, although not determinative but a good grounds to send a worker home for being Sick.

The Temperature report gives all the temperature values of a maximum of 50 employees for a 31 day period to generate temperature trend of each employee for early attention and further actions.

This template is available for FREE download

Check out the latest COVID-19 Daily Screening Tool: https://www.eloquens.com/tool/rrm5FerZ/other/coronavirus-covid-19-best-practices/covid-19-daily-screening-tool


This Best Practice includes
2 excel file
SHEQXEL offers you this Best Practice for free!
download for free
Add to bookmarks
Further information
This tool is designed for logging daily body temperature of workers for early detection of COVID-19 suspects.