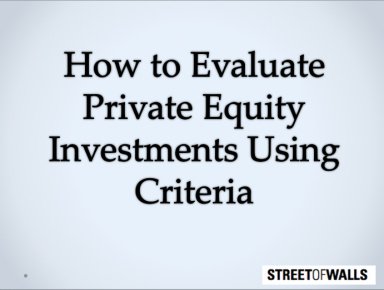 How to Evaluate Private Equity Investments by Using Criteria
This guide provides the criteria used to evaluate whether an investment opportunity is a good one.
Introduction
A PE investor must evaluate several factors in order to determine whether any given investment opportunity is a good one (and is appropriate for the PE firm). Research is needed in order to understand a company's financials, market position, industry trends, and debt financing available. In the following pages, we'll discuss how to assess an investment opportunity and conduct due diligence for all types of investments. While every company has its different nuances, this chapter will give you a general framework of how to analyze an investment opportunity and the various considerations involved.
Step n°1 |

CRITERIA FOR GOOD LBO CANDIDATES

A good LBO candidate typically has the following characteristics:


1) Strong market position and sustainable competitive advantages: This may seem obvious, but strong LBO candidates include companies that are market leaders with sustainable business models. This can be characterized by high barriers to entry, high switching costs, and strong customer relationships.


2) Multiple avenues of growth: It is always helpful to have a balanced and diverse growth strategy, so that a company's success is not completely reliant on one driver. This could include growth through the introduction of new products, increasing in the number of locations, new customers, increasing the penetration of current customers (upselling products), exploring adjacent industries, and expanding into new geographies, among other possibilities.


3) Stable, recurring cash flows: Due to the reliance on high leverage, PE firms must find companies with stable and recurring cash flows in order to have sufficient cash flow to service all of its debt requirements. This requires to have relatively low exposure to seasonal fluctuations in cash flows, as well as low sensitivity to cyclical fluctuations (i.e., relatively immune to economic downturns and/or commodity prices).


4) Low capital expenditure requirements: Companies with low maintenance capital expenditure requirements provide management more flexibility in terms of how it can allocate the company's capital and run its operations: investing in growth capital expenditures, making bolt-on acquisitions, growth in its core operations, or give back capital to its shareholders in the form of a dividend. Capital-intensive businesses will typically generate lower valuations from private equity firms since there is less available capital (after interest expense), and there is increased financial risk in the deal.


5) Favourable industry trends: Private equity firms are continually searching for companies that are well-positioned to benefit from attractive industry trends, since it results in above market growth and provides stronger equity return potential as well as stronger downside protection for the investment. Examples include increasing automation, changing customer habits, adoption of a disruptive technology, digitalization, changing demographics, increasing regulation, etc.


6) Strong management team: A strong management team is crucial to success as private equity firms will provide strategic guidance but will almost exclusively rely on management to execute their operating strategy. If a company does not have a strong management team, the private equity firm must have a replacement ready before even seriously contemplating the investment.


7) Multiple areas to create value: In addition to the characteristics above, a good LBO target candidate will also have multiple areas where the PE firm can create additional value. Examples include selling underperforming assets, increasing the efficiency of operations, pricing optimization, organizational structure, and diversifying the customer base.
add_shopping_cartContinue reading for free (70% left)