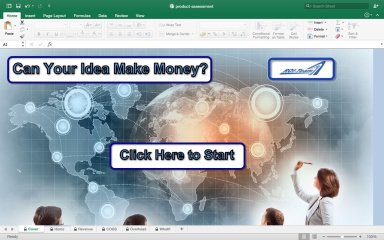 Product Assessment Tool
Excel model for evaluating the profit potential of your idea and business

by David Connaughton
Owner, ROI-Team, Inc.
Follow 33
Description
This excel model is a great tool for analysing and evaluating just how good your business idea really is. It can often be difficult to evaluate the usefulness and potential profitability of your own ideas, but using this simple tool will help!

This model includes 5 functional tabs to help with your analysis. These are:

- Home
- Revenue
- Cost of Goods Sold
- Overhead
- What If?

The model poses 4 key questions that must be answered during the analysis. How much do you think you can sell? How much do you think you can sell it for? How much will it cost to produce and deliver each product? How much will it cost you to keep in business? By considering these questions and utilising this excel model, you will be able to evaluate the potential profitability of your idea.

This model will help you to forecast your expected revenues based on product sales and costs. This is then used to calculate your forecasted revenues on a yearly basis as well as your yearly percentage growth.

The COGS tab gives you a template to forecast labour and material costs, allowing you to predict the overall cost of your operations. This is then laid out in a table showing the overall COGS and Gross on a yearly basis.

Within the Overhead tab you will be able to forecast different costs to your business such as: salaries, space and utilities, communications, office supplies, insurance etc. This tab will also show your overall overhead and net profit.

Ultimately, this is a great tool for analysing the viability and potential profitability for your business startup idea.
This Best Practice includes
1 Excel Spreadsheet
David Connaughton offers you this Best Practice for free!
download for free
Add to bookmarks