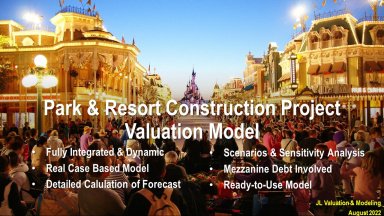 Park & Resort Construction Project Integrated Financial Model
This model is to provide users an integrated and fully customized Park & Resort Construction Project valuation template

by JL Valuation & Modeling
Valuation & Modeling Professional
Follow
Description
This model provides users with an integrated and fully customized Park & Resort Construction Project valuation template demonstrating how the business makes money, Capital Structure, and a very detailed forecast of the revenue, cost, D&A, and Debt Schedules.


The model is derived from a real case financial model with key financial driver modifications. Thus all revenue sources, capital structure, and debt schedules (normally involving Senior Debt and Mezzanine Debt in this kind of project) can be a good reference for users' potential similar project analysis purposes.


The model is ready-to-use and is well structured based on the Best Practice of Financial Modeling, and utilized a One-Page Model style that facilitates users to easily follow the logic of the model and understand the formula of the calculation without the need to switch from sheet to sheet.


This model includes three sheets which are "TOC", "Model" and "Summary"
Sheet "TOC" displays the structure of the template.


Sheet "Model" integrated the scenarios options, operation assumptions, detailed calculation of the forecast of financial statements, D&A, Debt Schedules, DCF valuation, and return analysis.


In sheet "Model," we have a very detailed calculation for "Depreciation", "Debt Schedule", "Working Capital" and detailed forecasts of Revenue, COGS, etc. The model has clearly displayed the operation of the business utilizing detailed calculations.
Sheet "Summary" outlays four graphics of key financial performances for users to get a quick idea of the project's performance.


This template will absolutely be a great tool for both analysis purposes and academic use.


The model is ready-to-use, fully customizable, and dynamic. All inputs in color BLUE could be modified according to users' real cases.


The template is user-friendly for professional analysts or users with little experience in financial modeling since its a simple design pattern and easy-to-follow logic.
The model does not place any complicated formulas or VBA code to guarantee the user's satisfaction. The structure and content have been created following the Best Financial Modeling Principles and considering the high level of flexibility and user-friendly priority.


Please feel no hesitation in contacting us if you experience problems using the models provided.


In addition, if you need a customized model for your specific business, please just let us know, and we would be happy to help you with this.
This Best Practice includes
Full EXCEL MODEL
Acquire business license for $75.00
Add to cart
Add to bookmarks