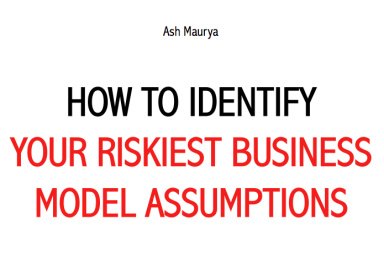 How to Identify Your Riskiest Business Model Assumptions
How to spot risky business model presumptions so that you can de-risk the model before asking future co-founders to join
Introduction
The true job of an entrepreneur is to systematically de-risk their business model over time.


While you might be really excited by your idea's potential, others don't see what you see. What they see instead is something untested and risky.


You have to derisk your idea to convince your future co-founders to quit their stable jobs and join your cause.


You have to derisk your idea to convince customers to take a chance on your product versus the existing alternatives.


And you have to derisk your idea to convince investors to give you money to grow your business.


It logically follows that that you should prioritize tackling what's riskiest, not what's easiest, in your business model.


This was the basis for the 2nd meta-principle described in my book: Running Lean.


While tackling what's riskiest is a simple enough concept to grasp, it's ironically quite hard toput into practice.


When you fail to correctly prioritize your risks, it doesn't matter how many experiments you run. You'll get sub-optimal results and fail to pierce a certain ceiling of achievement.


This is why I came to realize that "identifying what's riskiest" is the main Achilles Heel in Running Lean. I've spent the last year looking for a more practicable solution which is the main question I address in my next book: The Customer Factory.


But before I jump to the solution, lets first take a look at current approaches for risk prioritization and see where they fall short:
Step n°1 |

Approach 1: Use your intuition

You could just use your intuition and pick what that you consider as your riskiest assumption to test.



But testing anything takes time, money, and effort, and it's not comforting to know that incorrect prioritization of risk is one of the top contributors of waste.


In other words, if you fail to correctly identify what's riskiest, you end up burning needless resources and you'll get those sub-optimal results and endless cycles I showed earlier.
add_shopping_cartContinue reading for free (70% left)