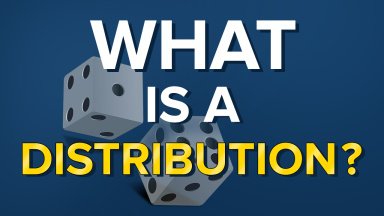 How to Use the Distribution Function in Statistics
Learn everything you need to know about Distribution in Statistics.
Step n°1 |

What is a distribution in statistics?

When we use the term normal distribution in statistics, we usually mean a probability distribution. Good examples are the Normal distribution, the Binomial distribution, and the Uniform distribution.
Alright. Let's start with a definition!


A distribution in statistics is a function that shows the possible values for a variable and how often they occur.


Think about a die. It has six sides, numbered from 1 to 6. We roll the die. What is the probability of getting 1?


It is one out of six, so one-sixth, right? What is the probability of getting 2? Once again – one-sixth. The same holds for 3, 4, 5 and 6.


Now. What is the probability of getting a 7? It is impossible to get a 7 when rolling a die.
Therefore, the probability is 0.
add_shopping_cartContinue reading for free (70% left)