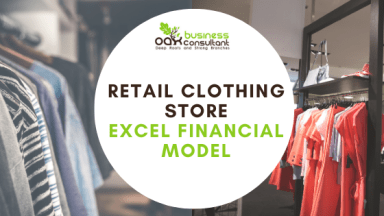 Retail Clothing Store Excel Financial Model
This Financial Model clearly illustrates what a user requires to achieve their business financial objectives.

by Oak Business Consultant
Our mission is to be the industrial leader and pioneer in our business domain
Follow
Description
If you are launching your retail clothing business and looking for a comprehensive Financial Plan, Oak Business Consultant has developed a financial model for a clothing store with a 5-year forecast, especially for style experts. It will help the user to determine all financial statements and KPIs, enabling the user to make wise and smart decisions with all relevant inputs, graphs, and charts.
The Retail Clothing Store Financial Model includes all necessary 5-years reports, Projections, Balance Sheet, Profit, and Loss Statements, Cash Flow, Valuation charts, Break-even points, and all other KPIs reports automatically be calculated based on the user forecast data. This Financial model is built on the leading indicators for a retail clothing store, such as – monthly new visitors traffic and the conversion of visitors to customers. All data is easy to handle and manage by the user. All indicators are updated automatically once the input factors change.
Moreover, this financial model is dynamic and easy to use; you wouldn't require any specific professional financial knowledge to understand this model; by having a minimal understanding of business financials, you can efficiently use it.
Similar Business Models
Zara, H&M, NY&C, and American Eagle Outfitters
Key Inputs
Average Monthly Store Visitor.
The growth rate of Visitors- visitor traffic monthly growth rate
Rate of Conversion- At what percentage of visitors convert into customers.
Rate of Refund - at what percentage your sold products returned by customers.
Percentage of Converted Repeat Customers – At what percentage of new total customers come to your restaurant repeatedly.
Average Payable and Receivable days your business is following.
Cost of Good Sold Percentage of each Product.
Inventory Ratio
Average Product purchased by the customers
The average amount spent by customers in each category.
Tax Rate
Cost of good sold, how many percentages of revenue spends as COGS
Key Features of Retail Clothing Store Excel Financial Model
Input Sheet
This Retail Store Financial Model Template contains inputs that, when changed, impact the calculations and, therefore, the changes are applied to all relevant sheets. This Retail Store Financial Model includes built-in flexible outcomes linked with scenarios.
Start-up Summary
This sheet provides you and your investors an analysis of all the investment requirements of a new start-up. It helps the business present a snapshot of the company to prospective investors and raise capital.
Monthly & Yearly Income Statement
The monthly Income Statement sheet of the Retail Clothing Store Excel Financial Model is perfect for those who require regular reporting and details. Additionally, Income Statement contains all revenue streamlines with gross earnings, net earnings linked with a revenue analysis sheet to ensure accurate reporting. Oak Business Consultants understands every retail business's goal is to profit for that, so we have developed a mechanism that helps the business owners determine whether they are making profits or otherwise.
Furthermore, the Yearly Income Statement gives you complete insights into revenue and general & administrative expenses. The Yearly Income Statement also contains several graphs, assumptions, ratios, margins, net profit, earnings, cost of services, and profit after tax.
Balance Sheet
This balance sheet enables you to analyse your position of current assets, fixed assets, liabilities, and equity. This also allows you to monitor your accounts receivable, accounts payable, accrued expenses, etc. Therefore this specific, financial model gives you the perfect space to analyse your key financial balance accounts.
Cashflow
The Cash Flow statement is one of the most important financial statements because each business's main goal is to generate cash flow. This shows how much business has consolidated money and how much is not enough to attract additional financing. This sheet also contains a dedicated sheet to monitor and analyse your company cash-ins and out. This cash flow statement is based on several key inputs, such as Payable and Receivable Days, yearly income, working capital, long-term debt, net cash, etc. This calculation then computes your net cash flow, beginning and end cash balances. This is a perfect template for your company's cash flow management.
Break-Even Analysis
The break-even analysis will help you know at a glance, the profits generated at the various sales levels. The Break-Even Analysis refers to the point where your total sales contribution refers to fixed cost at zero profit and loss situation. This Technique is primarily based on marginal costing, which behaves differently at various levels of output activity.
Project Evaluation
Since the table calculates Return on Investment, Investor's Future Equity Share, and Cash Burn Rate Analysis, analysing the company's performance becomes easy to capture potential investors.
Diagnostic Sheet
This Diagnostic sheet automatically calculates the data such as the Profitability ratio, Net operating expense ratio to expense, etc., that will provide financial commentary about the company's financials.
Dashboard
Users and readers respond and process visual graphs better than data. Furthermore, This dashboard provides you a graphical management tool. It enables you to track all your relevant financial KPIs and improve cash flow management. Also allowing you to track expenses, sales, and net revenue in detail. It enables you to meet and out-perform the financial objectives of your business.
Why You Need To Buy A Retail Clothing Financial Model
Confidence in the future: The Retail Clothing Store Excel Financial Model enables the user to effectively plan the company's financials, mitigate risks, manage operations and cash flows, and foresee your prospects for the next five years.
Comprehensive Financial Plan: The Financial Model is a set of various reports and KPIs that support a company's financial health: integrated financial planning, planning and budgeting, management and performance reporting, and forecasting. The tables in the financial model can also be added to the Business Plan. 
Based on Financial Principles: After doing in-depth research on a retail store business model,  this financial model has been created with logically correct financial and economic principles and assumptions.
Properly Integrated: The model assumptions and calculation are structurally integrated with each other. So the change in the main sheet will automatically lead to the change in all related sheets easily. 
Visualization Tool: This Financial model prepares a clear communication of the quantitative outcomes obtained by calculations via various graphs and charts. Therefore, the user does not need to pay much attention to the inner workings of the financial model.
This Best Practice includes
1 Excel File (14 Tabs)
Acquire business license for $133.00
Add to cart
Add to bookmarks