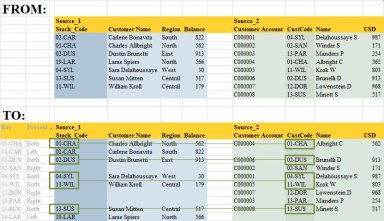 Match Items from Overlapping Lists
Align items from lists which have overlapping populations.
Acquire business license for $5.00
Add to cart
Add to bookmarks
Further information
To take two lists (with any number of columns) that have each have an index column containing a code that is common to the two sets of data.
Output is the same two lists, both sorted by the index column, but with gaps in one side or the other where there is no matching item in the other list.

Typically, up to 5,000 lines on each side (with 15 columns in each) takes less than two minutes.
Up to 50,000 lines on each side will complete, but may take an hour (so set going before finishing for the day?)
Beyond that, a SQL database is a more appropriate tool - do contact us for analysis, specification, or coding.

There are extra Guidance Notes in the downloadable file.

N.B. All videos have sound!
You are using Excel on a PC, not on a Mac.
Excel 2010 onwards, although if you are running Excel2010 it is no longer supported, and potentially vulnerable to hacking, so you should really be on Excel 2013 or later.
It probably works on earlier versions too, but as nobody should be using those, we have no ability to test it on them.