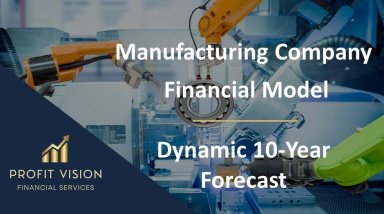 Manufacturing Company Financial Model - Dynamic 10 Year Forecast
Financial Model providing a dynamic up to 10-year financial forecast for a startup or existing Manufacturing Company.
Acquire business license for $129.00
Add to cart
Add to bookmarks
Further information
Provide a flexible tool for CEO/CFO's of a manufacturing company to control and improve daily operations and forecast company's growth.
Suitable for any type of industry
The model supports calculation results for up to 10 different products and 10 different categories of direct & Indirect Raw Materials. Extra Products/Materials can be added upon request.