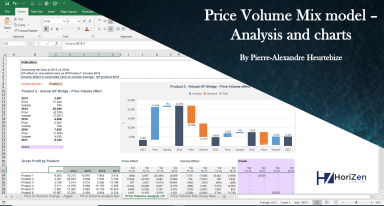 Price Volume Mix Analysis (PVM) excel template with Charts - Sales mix and Gross Profit by Product
Price volume mix analysis (PVM) excel template to better understand your sales and improve pricing strategy.
Acquire business license for $59.00
Add to cart
Add to bookmarks
Further information
Give a strong and automated tool to analyse revenue and gross profit change on a product by product level and efficiently understand the impact of the change in price, change in volume and change in mix on your top line and your gross profit.
A business with multiple products. Retail, marketplace, services companies.
If you are using a microsoft excel version older than 2016