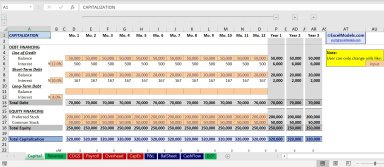 3-Year Financial Forecast (DEMO)
3-year financial forecast model for CEO of a startup or small business
by ExcelModels
MBA, Finance professor & Excel master
Follow 147
Description
NOTE: An UNLOCKED version of this model can be purchased at:
https://www.eloquens.com/tool/2zzwHrr4/finance/three-statement-financial-models/3-year-financial-forecast-unlocked


At ExcelModels we create world-class templates that produce Board-ready, GAAP-compliant Pro Forma Income Statements, Balance Sheets, and Cash Flow Statements.

Our models are as intuitive as they are powerful. We color-code cells to prompt for inputs which drive underlying financial formulas.

This 3-year model is perfect for pre-revenue, early-stage companies. It is meant for the CEO who wants a 3-year model based on a sales forecast and a limited number of financial inputs. It contains a section for Debt (both short- and long-term), financial statements, and DCF Valuation.

Features include:
● Capitalization tab for 36-month model
● Up to 20 Revenue and COGS sources
● Payroll and Operating Expense worksheets
● Capital Expense worksheet with Depreciation schedule
● Integrated Income Statement, Balance Sheet, and Cash Flow Statement
● DCF Valuation tab with multiple Free Cash Flow breakdowns

As with all models at ExcelModels, checks and balances are in-place, highlighting areas (such as a negative cash balance) where the user needs to adjust assumptions elsewhere.

This template contains clearly-labeled input cells, focusing the user on key assumptions they control, prompting an accurate forecast.

We provide customization and build-out for an additional fee.
Please contact us for more information.

This Best Practice includes
1 Excel file
ExcelModels offers you this Best Practice for free!
download for free
Add to bookmarks