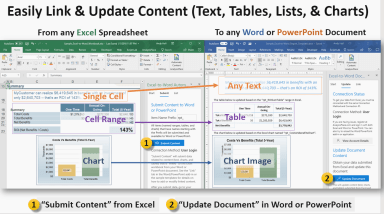 Excel-to-Word Document Automation Add-in Sample Workbook
Update/create Word and PowerPoint content (text, tables, and charts) based on Excel data and calculations
Andrew Hall offers you this Best Practice for free!
download for free
Add to bookmarks
Further information
Update/create Word and/or PowerPoint content (text, tables, and charts) based on Excel data and calculations.
Automate your customer proposals, recurring business/financial reports, custom engineering datasheets, and more! Quick/secure install via the Microsoft Office Store.
Office for Windows, Office for Mac and Windows Online

*Customer business cases (from an Excel-based ROI/TCO Tool)
*Personalized product documentation (from an Excel sizing/capacity configurator)
*Recurring financial reports (from Excel analysis)
*Custom datasheets (from engineering/scientific calculations in Excel)
*Recurring business reports
*Sales analysis and reporting
*Business dashboards

The free "Basic" version does not require registration or login and is a great option to evaluate the add-in and for users with basic content automation needs. Fee-based versions are also available to enable premium and business features and require an AnalysisPlace.com account.
Add-In Requirements / Compatibility

This add-in requires Microsoft Office (primarily Office 365 subscription version). It must be added to Excel and either Word or PowerPoint.

*Office 365 for Windows (subscription version): requires version 1705 (Build 8121.1000) or later.
*Office for Mac: requires version 15.34 or later.
*Office 2019: all Windows and Mac versions are compatible.
*Office Online, via OneDrive: compatible, but with some limitations.
See above for required Excel, Word and PowerPoint versions. Most Office 2016 installed versions are not compatible.

This information is provided to you as a tool 'as is" with the understanding that there are no representations or warranties of any kind either express or implied.

In no event shall HCR dba AnalysisPlace or suppliers be liable for any damages. including those arising as a result of HCR or supplier negligence. whether those damages are direct, consequential, incidental or special, lowing from your use of or inability to use the tool, or information provided herewith, or results of the tool's use, even if HCR or suppliers has been advised of the possibility of such damages.

Use of our add-in through these Sample Workbooks is free, additional purchase may be required for more in-depth usage.