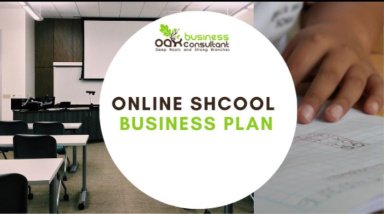 Online School Business Plan
Online School Business Plan template with a complete market analysis of US region. A ready to use Business Plan

by Oak Business Consultant
Our mission is to be the industrial leader and pioneer in our business domain
Follow 11
Description
The Online School Business Plan template includes complete guidelines on using the template, making it easy to fill out the important sections in this template. Once filled out, you will have your professional business plan.

The Business Plan is for Online School in the US market. Oak Business Consultant has conducted an updated market analysis in the target market. The user does not need to change market analysis as all the information is made available.

What's included in the Business Plan template

In this Online School Business Plan, you will find all relevant sections with guidelines that you will need to complete your plan successfully. Our Business Plan Template contains several sections of a professional business plan, including:

Executive Summary

The Online School Business Plan template's executive summary provides investors with a general layout of your company

This section is essentially your hook to convince potential investors and lenders that your model is worthy of their investment.

Market Analysis

The Market analysis section includes your target customer segments, what you need filling for them, the latest trends among these consumers regarding growth and behavior, also how the Online School market will rise since lockdown implementations in 2020.

Market Strategy

This section includes key milestones that help establish a timeline of progress towards your goals. Additionally, it includes subsections like Management Team, Operational Plan, Sources, and uses of funds and SWOT analysis.

Marketing Plan

Marketing is very crucial when it comes to business success. Since business owners need to work out how they will reach and decide which customers to target and win new customers. You should also make sure to make existing customers happy—the marketing plan section strategies include how your company will stay ahead of the competition. So based on our experience, we have included a marketing plan which will suit the niche market.

Financial Plan, Sales Forecast, Financial Statements

In this section, three statement financial statements are attached along with financial commentary and status of the business. So the user will have a very good idea of presenting the numbers and comment on important finance sections.

Contents of Business Plan

- CONFIDENTIALITY AGREEMENT
- COMPANY OVERVIEW
- OPPORTUNITY DUE TO COVID-19
- PROBLEM
- SOLUTION
- VALUE PROPOSITION
- TUTORING SERVICES OFFERED
- SECURITY FOCUSED
- INDUSTRY ANALYSIS
- MARKET OPPORTUNITY
- GLOBAL EDUCATION SERVICES
- ONLINE TUTORING MARKET GROWTH
- UK EDUCATION SERVICES: OVERVIEW
- KEY FINDINGS
- GROWTH AND IMPACT OF ONLINE EDUCATION IN US
- MARKET SHARE TO ACHIEVE WITHIN 5 YEARS – SERVICEABLE AVAILABLE MARKET
- COMPETITIVE ANALYSIS
- COMPETITIVE OVERVIEW
- COMPETITOR ANALYSIS
- MARKETING PLAN
- MARKETING OBJECTIVES
- ONLINE MARKETING STRATEGIES
- MARKET POSITIONING
- MARKETING CHANNELS
- OPERATIONS PLAN
- MANAGEMENT TEAM
- CONSULTATION TEAM
- FINANCIAL PLAN

How to use the Online School Business Plan Template

1- Executive Summary

This is the most crucial part of the business plan. It also provides a summary of the business highlights of your business plan and explains to the readers what you want. Regardless of the service, you want to sell online, and you can replace the word with their product.

The user is requested to input information, such as nature and substance, the type of operation, whom you sell, how the product is distributed, and the business' support systems. When preparing this section, the following points could also be noted:

(1) Mission

(2) Attraction

(3) Trade situation

(4) Social relation

2- Business Description

We have included a sample description for your business, so this will suit any Online School business. The points covered in this section also include size, major players, the entry barriers, the markets and customers, the profit margin, the national, economic, and technological trend affecting it, any special regulation relating to it, its long-term outlook, etc.

3- Market Analysis

The market analysis estimates the opportunity of online education in the U.S. market. We have covered all important sections in the industry and also highlight COVID 19 scenario. So the user can use the updated Market Analysis for any Edtech Business. The analysis also indicates whether the particular market segment is growing or declining.

4- Marketing Strategy

This section is crucial. It gives a good indication of the business' chance to succeed. Since it refers to your adoption of various means or ways to make your products/services known to your targeted customers and arouse their interest in purchasing your products/services. We have formulated 4P's approach, i.e., product/service, pricing, promotion, and place. So the marketing strategy is based on becoming the trendsetter for Edtech Industry via social media awareness and how the company will run the marketing campaign effectively.

5- Marketing Plan

The detailed marketing plan is included in the template also focussing on targeted customers and how to reach them. The company strategy is also included on how to maintain existing customers through product improvements. So the user needs to review and edit the description if required.

6- Operational Plan

This section has included a business's operational and production management, human resources, marketing, and financial management hiring, and also the staff that needs to be allocated. The user will need to input the following points:

- The quality control measures you have made
- Risk Management and internal control systems
- Assessing risks
- what-if scenarios to mitigate these risks.

7- Financial Plan

The full Financial Plan is included in the template, which also includes all three statements with graphs and charts. You are just required to fill in the numbers.

For your ease, we have highlighted those words which require changes in the business plan. To save your time, you just have to see highlighted words and replace them accordingly.

8- Other Sections

Oak Business Consultants has included all other sections mentioned above best suited for Online School Business. Information is updated and valid for 2020-2021 onwards.


Benefits offered by Online School Business Plan

Our business plan template allows the user to create a professional business plan with a proper structure and great formatting so that you can present your project to investors and banks in confidence.

Our experts have handled most of the formatting so that you can focus on the content of your business plan.
We have also guided you with clear instructions and examples for each section of the plan.
You get a complete business plan (financials and written part) in word format.
Chart Analysis
Guidance in every section.
Confidential Business Plan also with updated Market Research and analysis.
Friendly Customer support available 24/7.
This Best Practice includes
Word File
Acquire business license for $250.00
Add to cart
Add to bookmarks